Empowering Positive
Community - Government

Relationships.
The community engagement platform for local governments.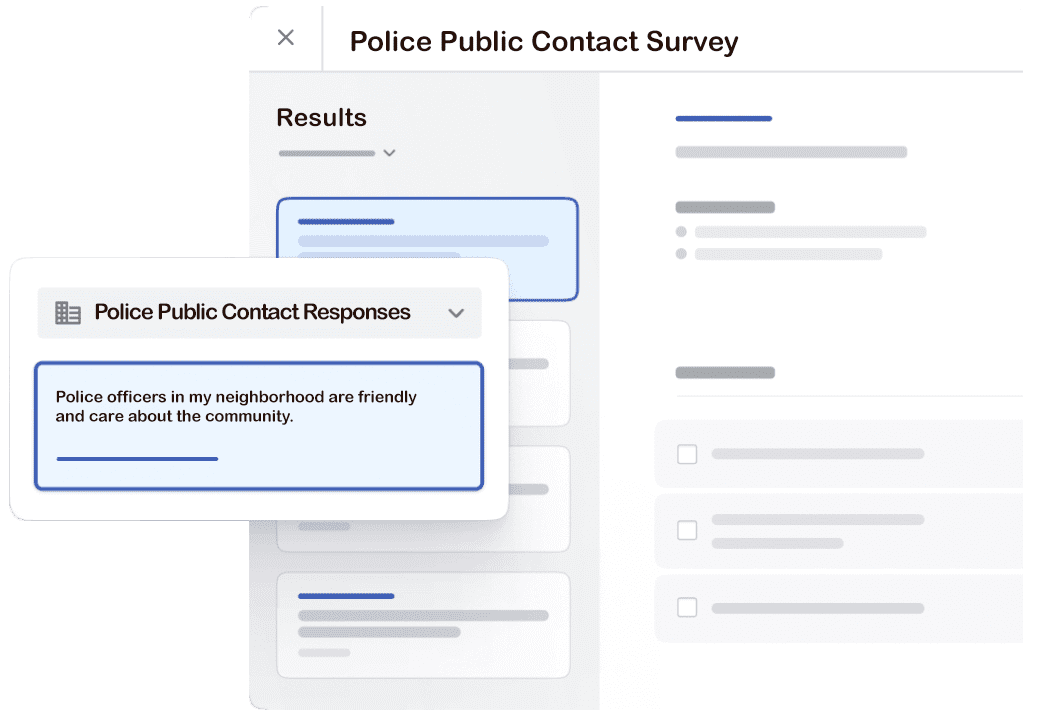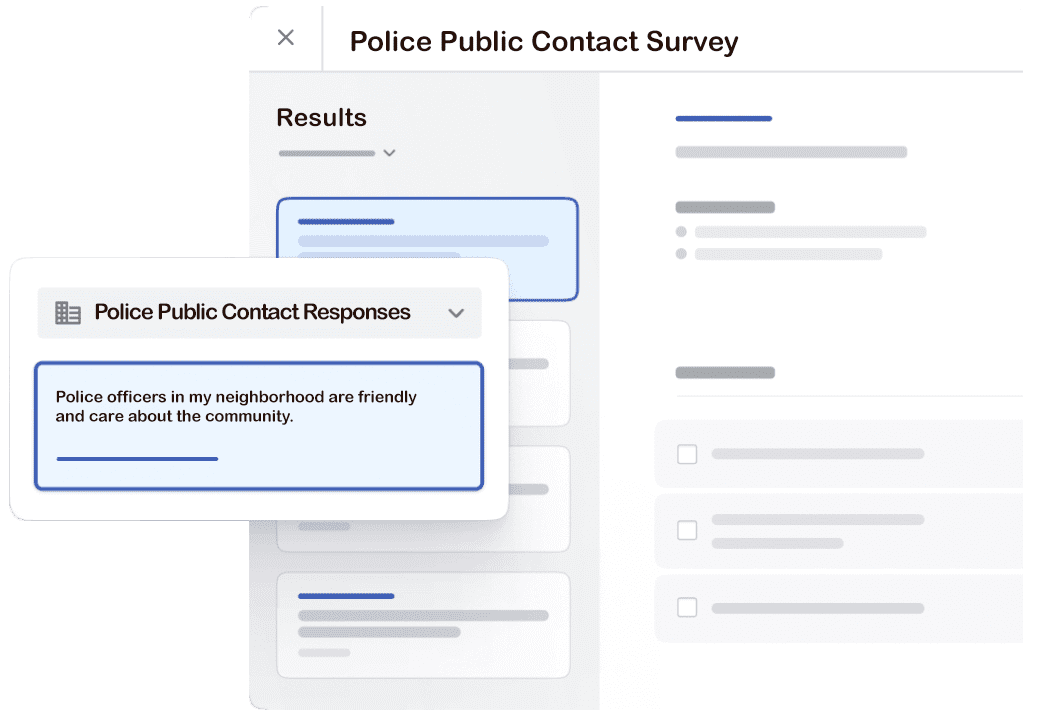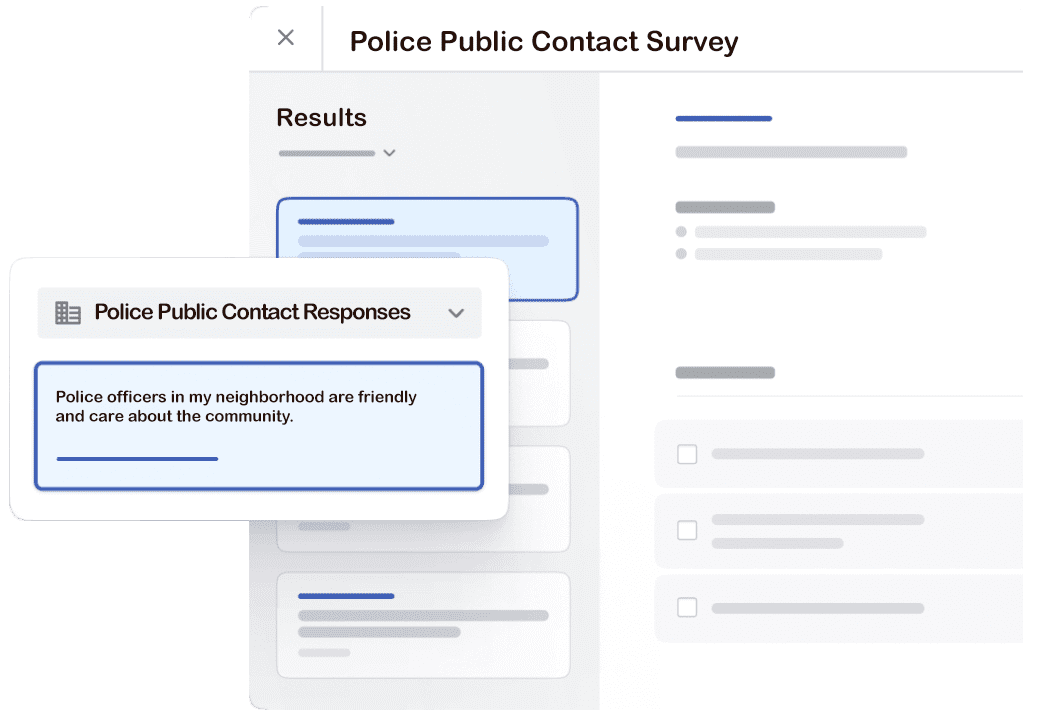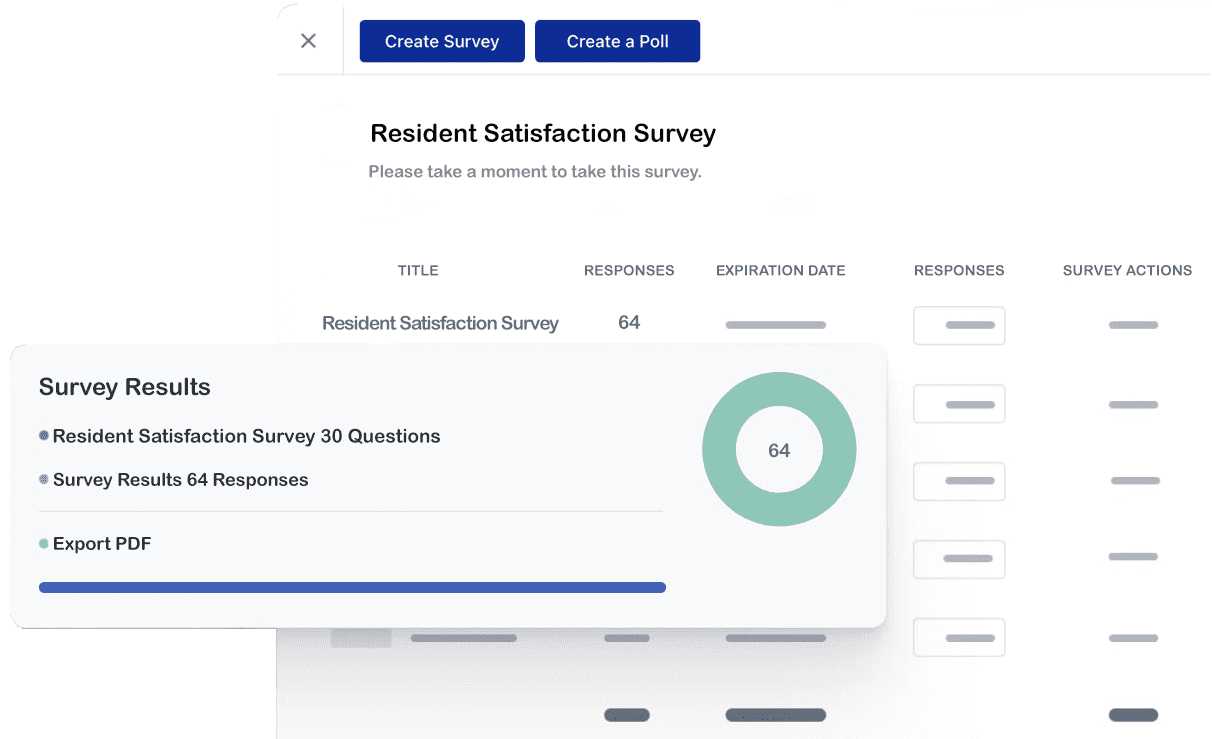 Show your dedication to serving the community by actively seeking and listening to their feedback. By collecting reliable insights on residents' satisfaction, opinions, and priorities regarding city services, facilities, and policies, you can make informed decisions that align with the needs and expectations of the community. Take the initiative to gather this valuable information and demonstrate your commitment to improving the quality of life for all community members.
Enhance community involvement and reduce barriers to participation by providing a simple and convenient way for residents to get involved. With our solution, you can easily reach out to community members through email, SMS, and social media channels, making it easy for them to provide feedback and get involved in the decision-making process. Streamline the process of gathering community input and increase engagement by utilizing our innovative solution.
Gather and analyze community feedback in real-time and make informed decisions that reflect the needs and priorities of your community. By actively engaging with community members on social media, collecting feedback at community policing events, and on your agency's website, you can build trust and improve public perception. Enhance community relations and strengthen your agency's reputation by proactively seeking and utilizing community feedback to inform your decision-making process.
Easily keep your community informed and engaged by quickly sharing the results of your efforts with just a single click. Maintain transparency and build trust by regularly updating your community on your progress and involving them in the decision-making process. Use this simple and convenient tool to foster a sense of collaboration and partnership with your community members.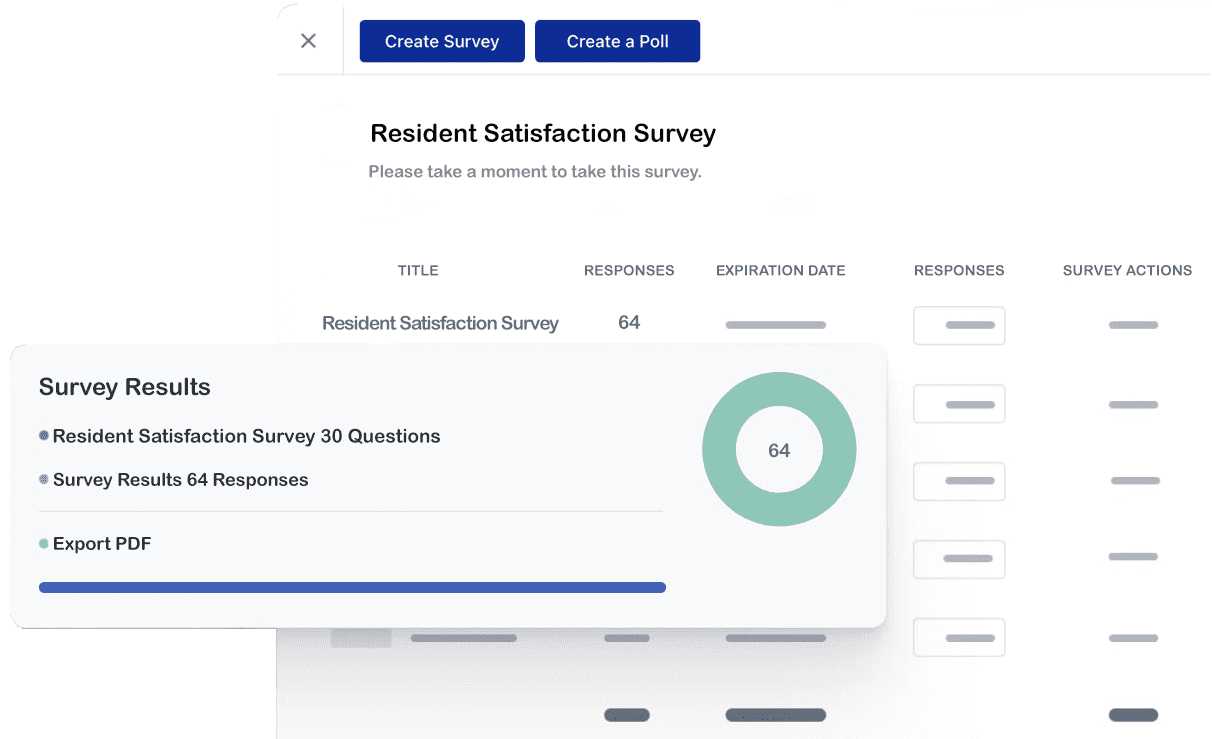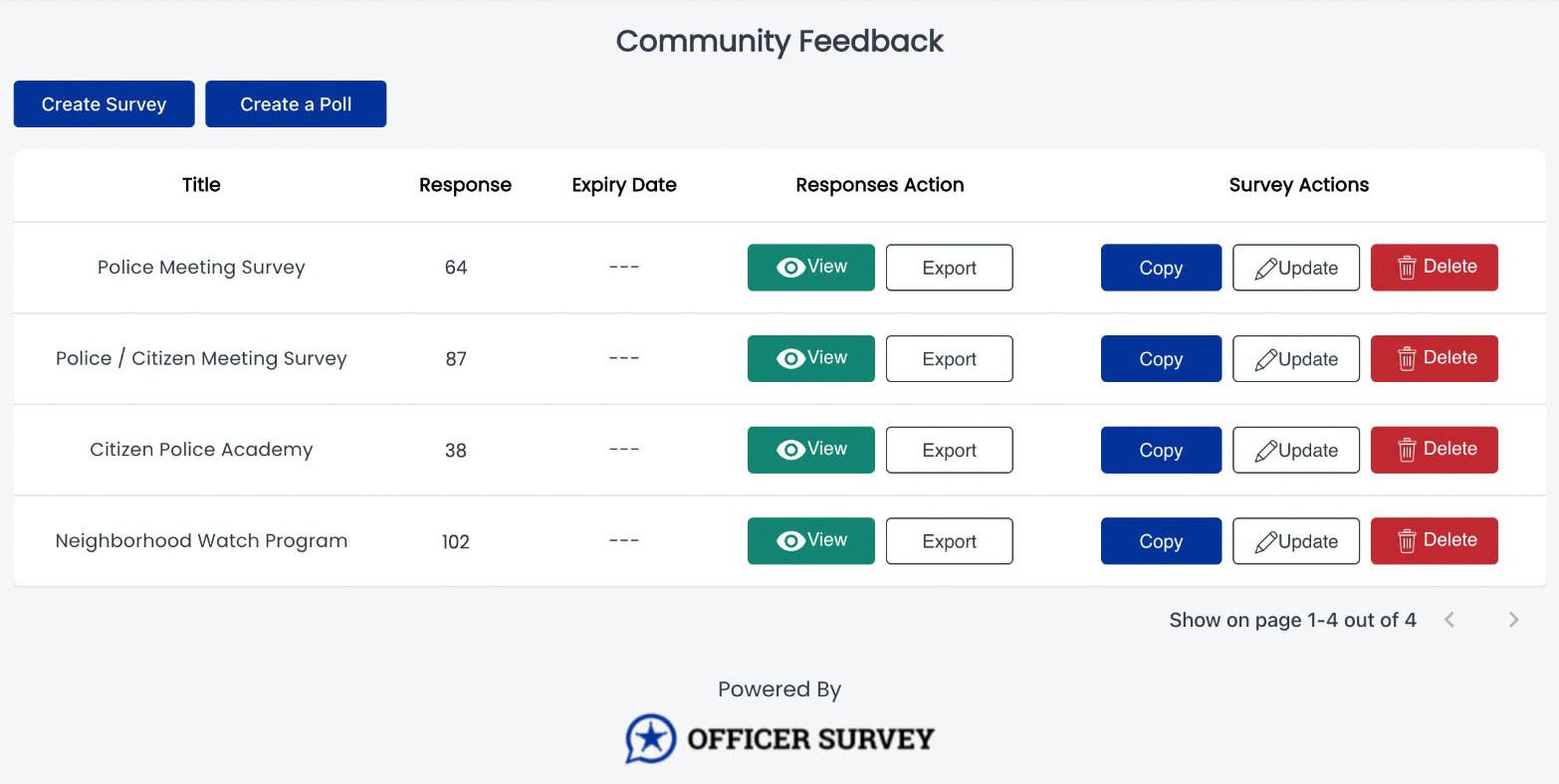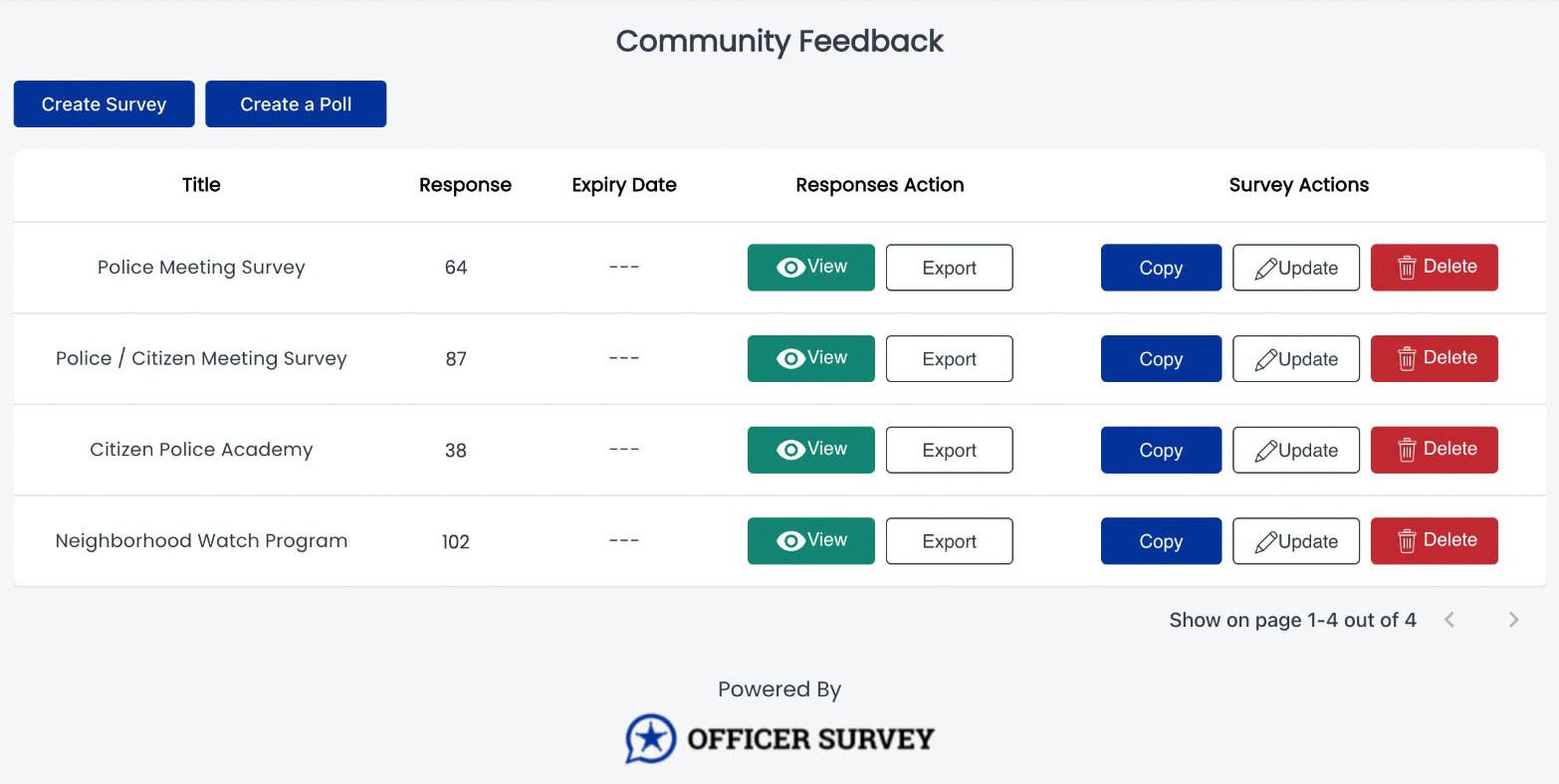 Enhance your agency's reputation and strengthen your relationships with community members by actively involving them in the decision-making process. By seeking their input and collaborating with them to identify needs and solutions, you can provide exceptional service and improve the overall quality of life for your residents. As a leader, you have the power to build trust and foster a sense of partnership with your community through active and inclusive decision-making.
Building trust and nurturing legitimacy on both sides of the police/citizen divide is the foundational principle underlying the nature of relations between law enforcement agencies and the communities they serve. Community members play a vital role in maintaining public safety and should be given the opportunity to provide feedback.
Community Policing should not be a program but a philosophy encompassing and embracing comprehensive strategies to build safe communities. Community policing enables police departments to build trust, strengthen relationships, and identify the needs of a community.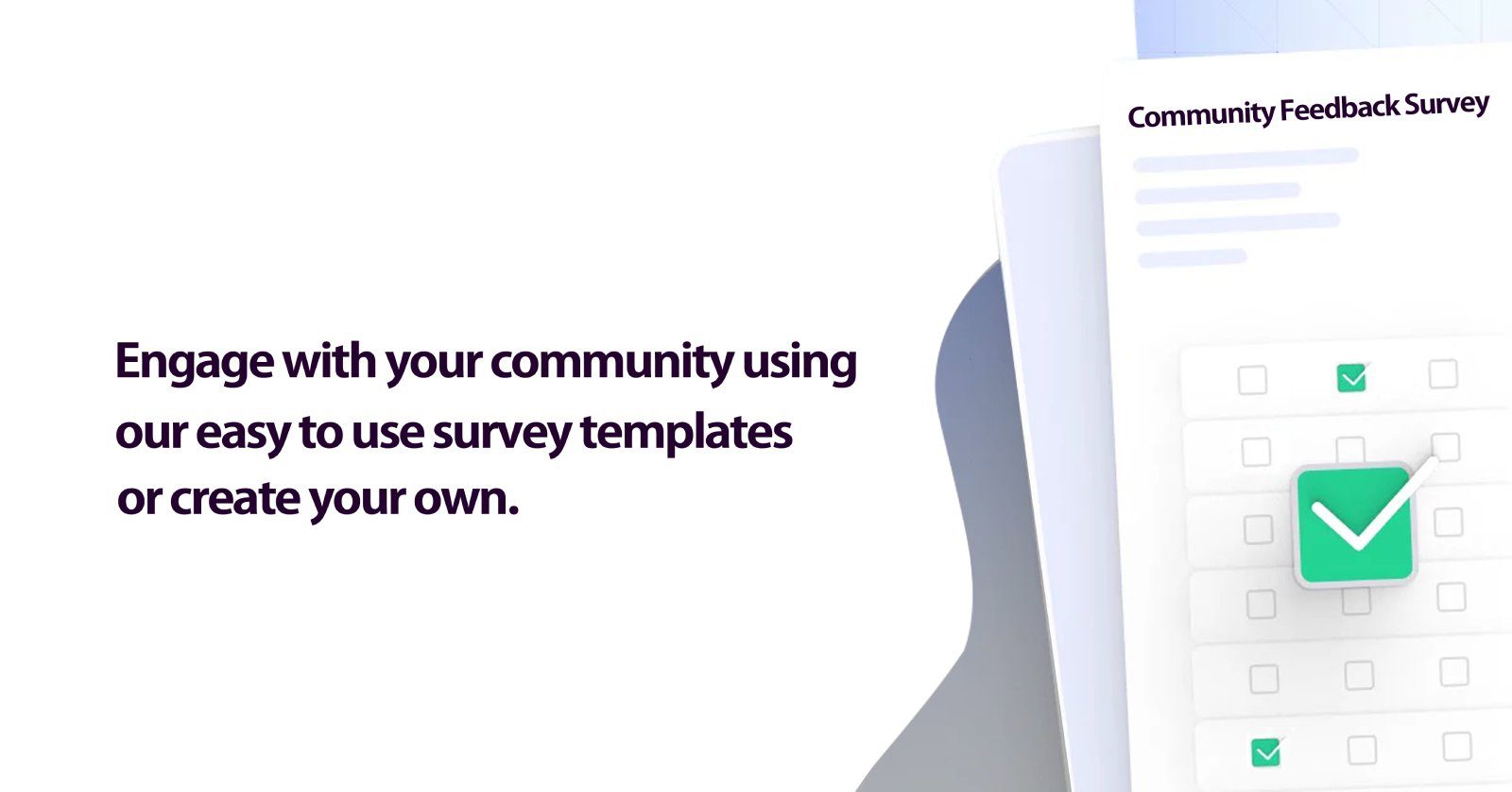 The goal of community policing should be to:
1. Promote safer communities by reducing crimes.
2. Build and foster a collaborative partnership through engagements.
3. Engage in comprehensive problem-solving with the community.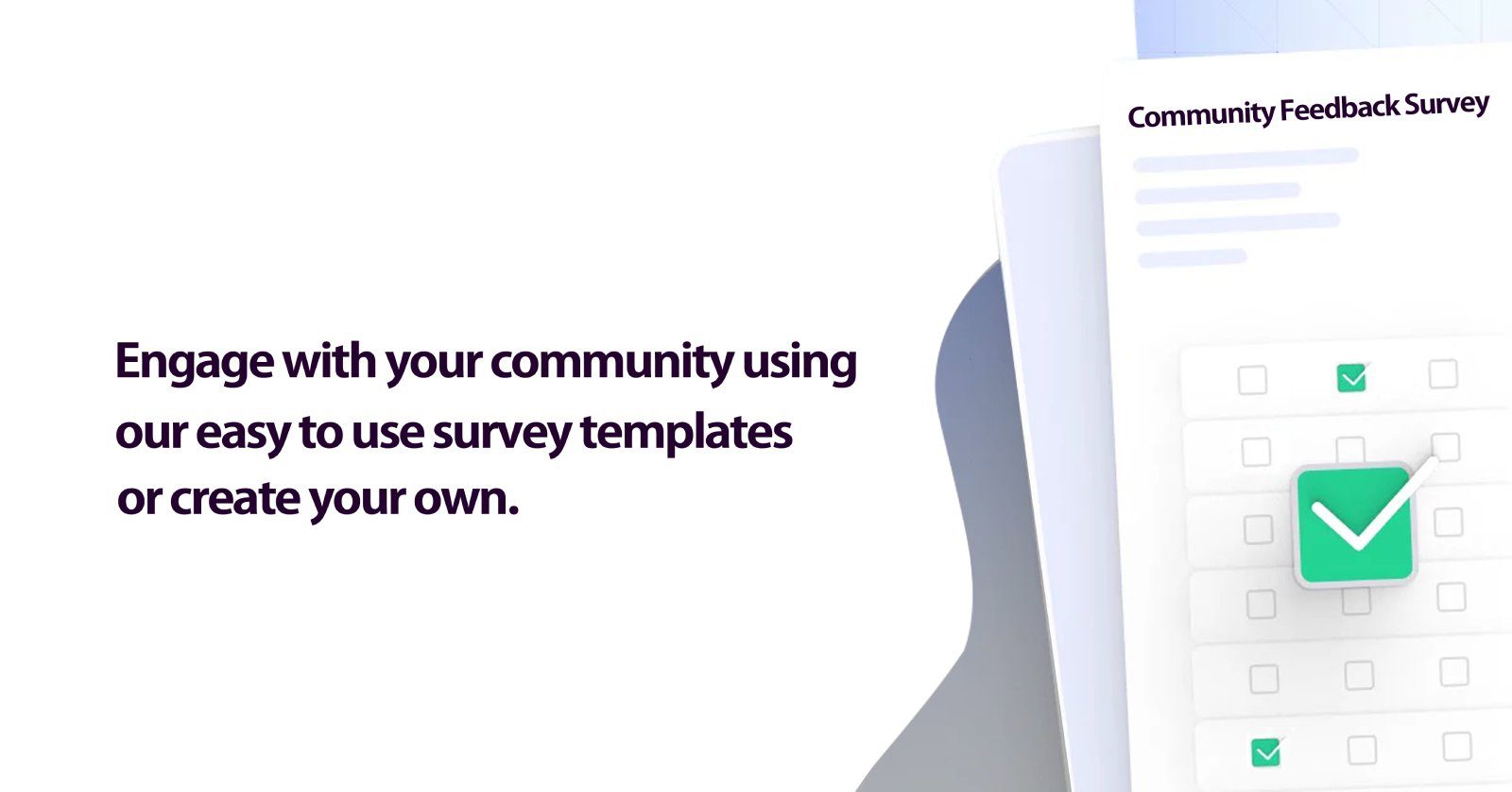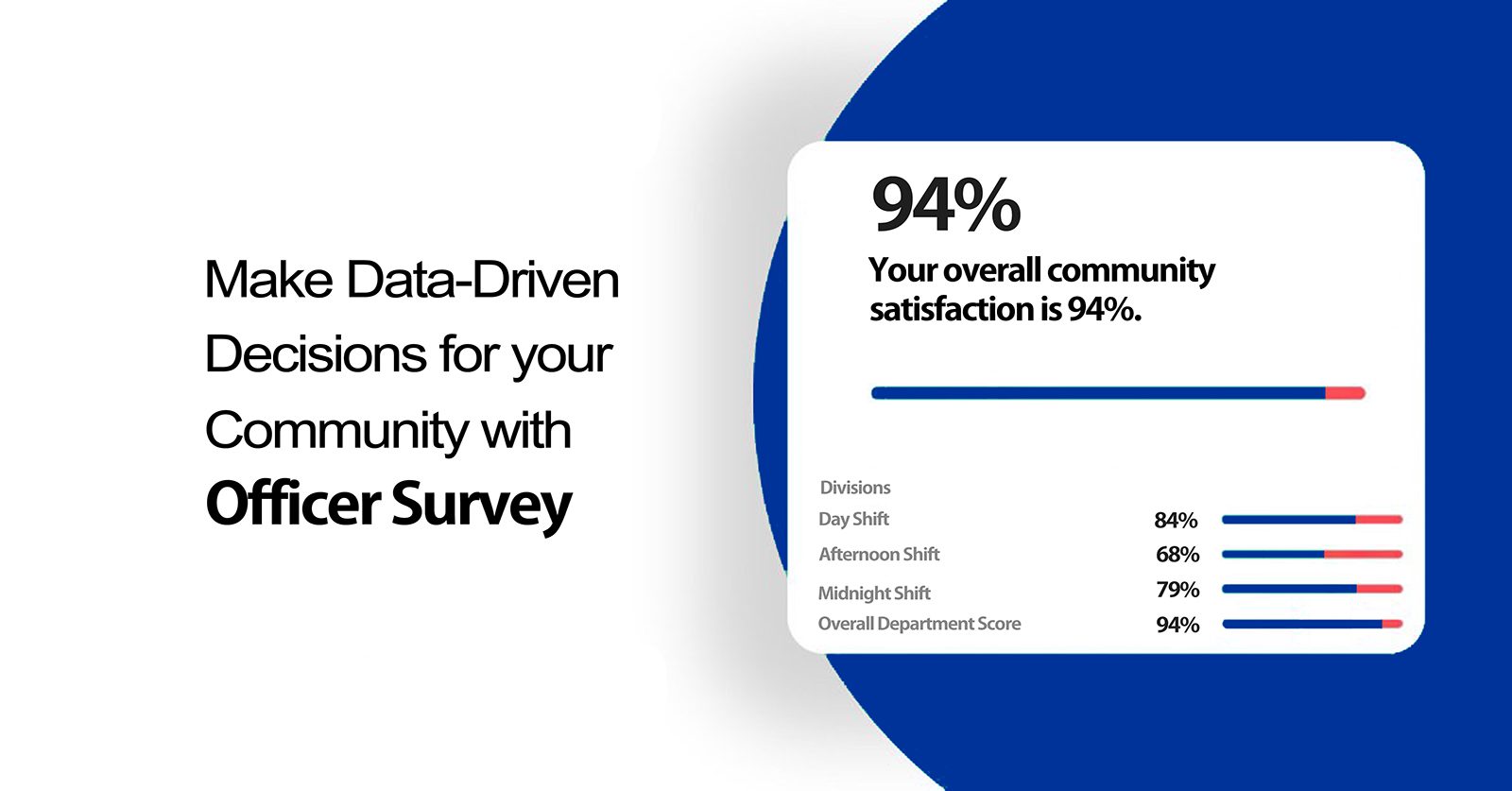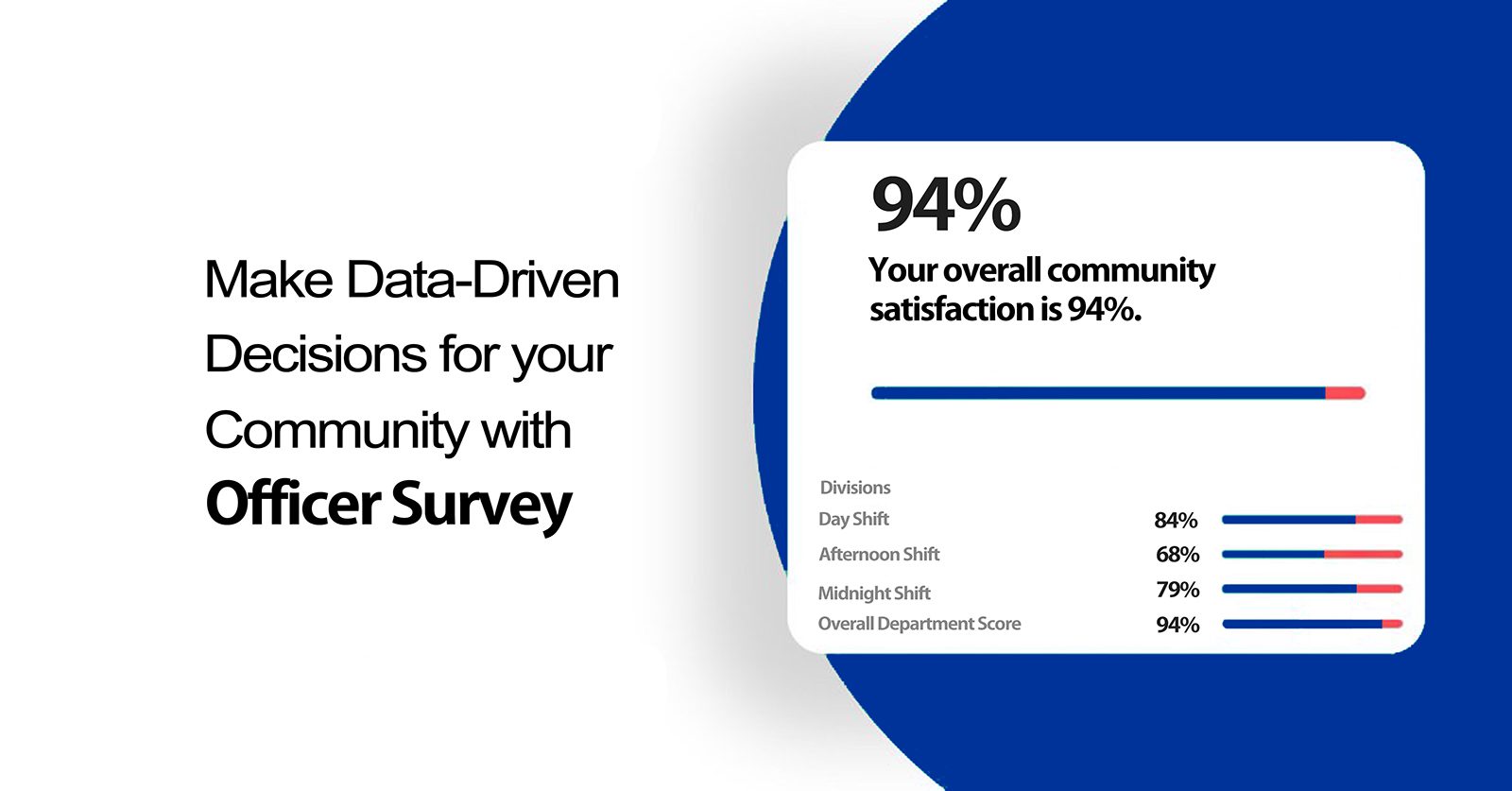 For police departments to achieve positive outcomes, they need to ensure that every police officer is engaged in the community by forming relationships that create lasting partnerships. For community policing to be effective, police departments need to seek ongoing feedback from the residents to better understand their community's needs.
Police Departments should work to engage more citizens in developing and understanding crime-fighting strategies. These can occur through regular ongoing crime surveys. For the community to trust the police, police departments should adopt a guardian mindset and culture by creating a safer and more secure environment. Be transparent, develop ways to engage the community (for example, solicit ongoing feedback), and ensure procedural justice principles are being followed.
Police Departments should employ the concepts of Procedural Justice and Legitimacy with a focus on the four pillars:
Giving people a chance to be heard.
Ensuring fairness in decision-making.
Being fair to everyone involved.
Being transparent and respectful in your actions.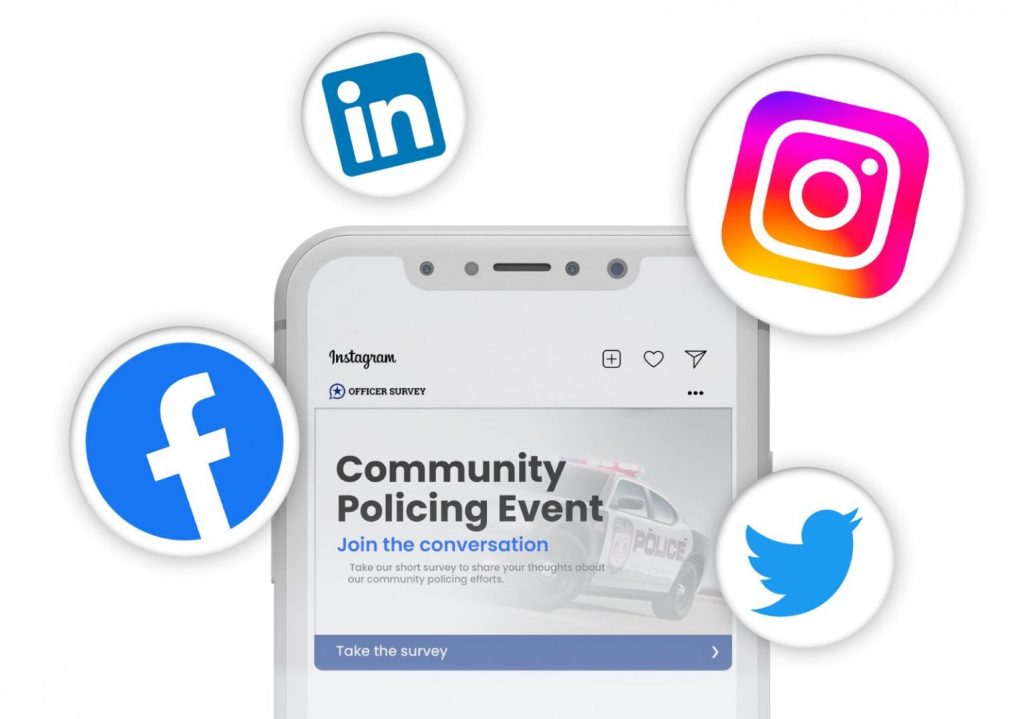 Police departments should also consider measuring each officer's positive interaction with the community by utilizing post-interaction surveys. These metrics will help police leaders identify how police officers interact with the community and assist police leaders in making data-driven decisions.
By asking for the public's input, it generates more positive outcomes than you might expect. Acting on the feedback, the agency can increase its emphasis on Community-Oriented Policing as the preferred means of addressing community needs. If you don't know people in your community, then you have a problem.
Officer Survey helps police departments just like yours achieve outcomes like never before. Many law enforcement agencies using our solution achieve significant success in community/police engagement. Our easy-to-use solution allows you to build customizable surveys in minutes.
We also offer a polling feature that police departments can use to receive community input from their residents. Polling residents allows agencies to gauge community opinion on various issues and understand how they can better serve residents. Polling results populate in real-time and are accessible in your dashboard.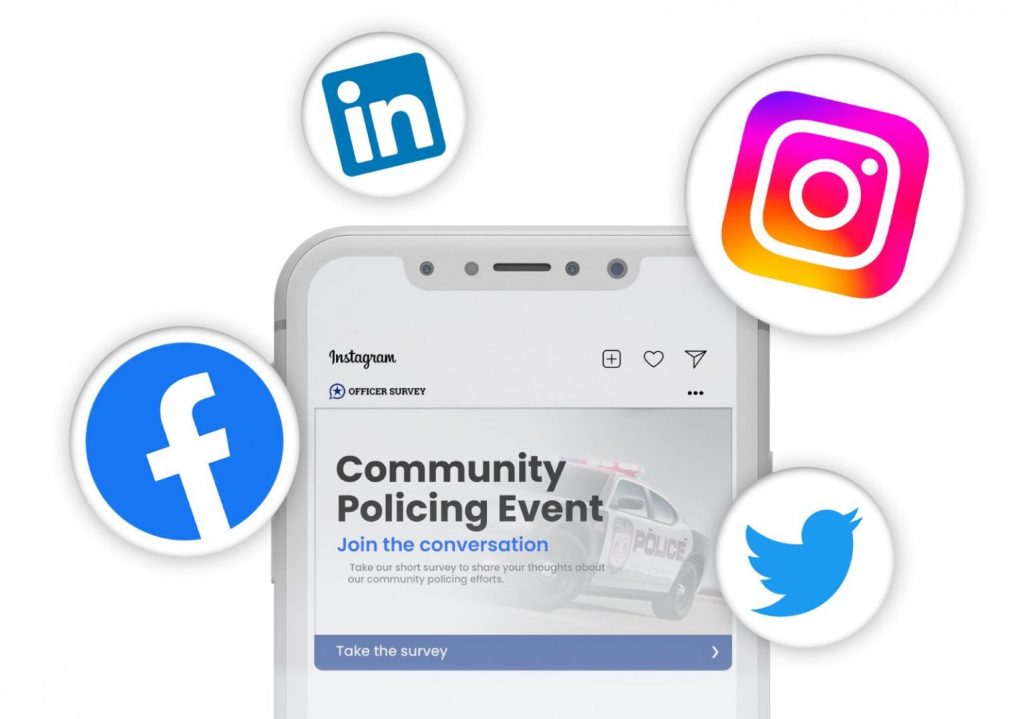 Campus Police Student Satisfaction Survey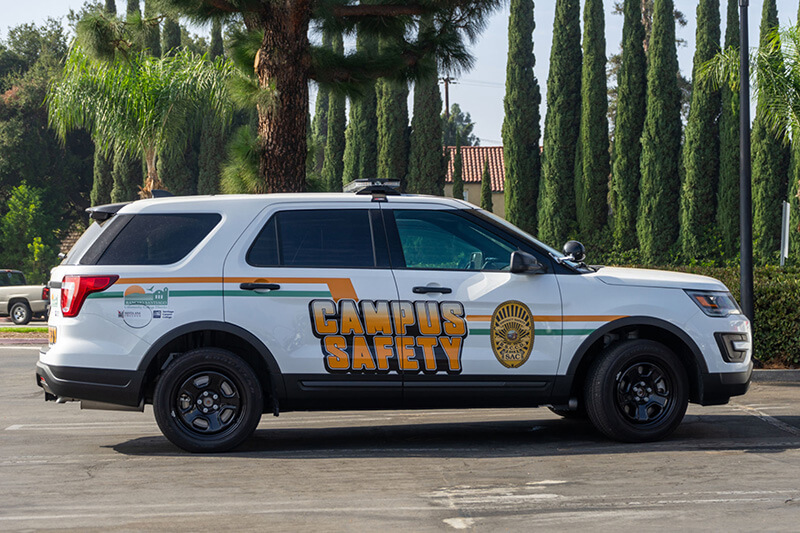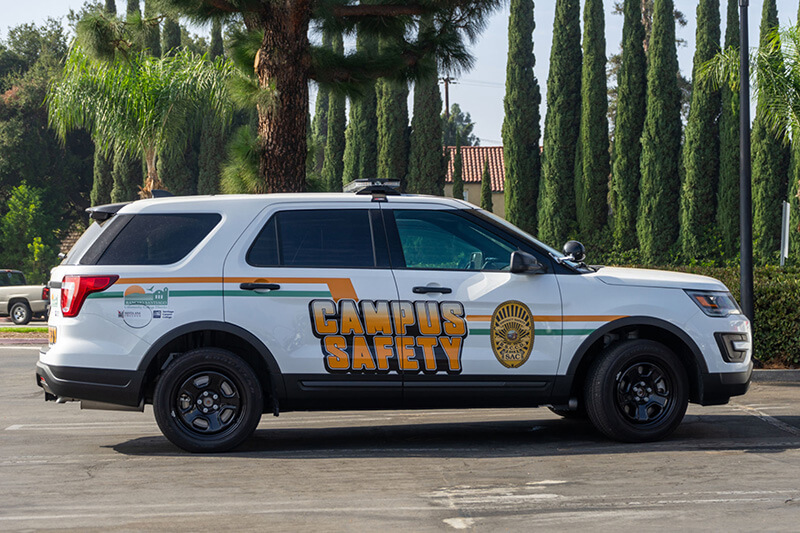 Surveys are critical in understanding the needs and wants of the students you serve and students' perception of the quality of policing.
Learn how you can improve officer performance, create a more positive image of policing, and influence student behavior and attitudes toward law enforcement for the better.
Increase communication with students and staff. Gather instant feedback directly from the source and build trust with your students.
Collect insightful feedback and measure your agency's:
Community Policing
Solutions
Citizen Police Academy Surveys
The Citizen Police Academy Surveys are a great way for the police department to get feedback from the community. The surveys help the department to identify areas where they need to improve whilst helping to build trust between the police and the community.
Community Engagement Surveys
Community Engagement Surveys collect data about their communities level of engagement within their local government. This information is further used to help improve communication and outreach strategies.
Crime surveys can help to assess the impact of crime on victims and witnesses and to identify the needs of these groups. Crime surveys can play an important role in crime prevention by helping to identify the factors that contribute to crime.
Police Public Contact Surveys
The PPCS is an important tool for measuring the public's trust and confidence in the police. The survey results can be used to help assess the effectiveness of police-community relations and to identify areas where improvements are needed.
Public Safety Surveys are an important tool for keeping communities safe. They help to identify areas where crime is a problem and allow residents to have a say in how their community is policed.
Resident Satisfaction Survey
The Resident Satisfaction Survey is a tool that police departments use to gauge how well they are doing in the eyes of the public. This is an important metric for departments, as it can help them to identify areas in which improvement is needed.
Small Business Survey is a research tool used to collect data from small businesses. The purpose of a small business survey is to gather information about the business landscape, specific businesses, and the needs of small business owners.
The School Safety Survey is a thorough questionnaire that is given to students to gauge their level of safety while at school. The survey asks questions about the student's safety, their perception of school safety, and their experience with any type of violence or bullying.