Create Surveys In Seconds With The
Power Of AI
Type your survey objective and let AI create your survey in seconds.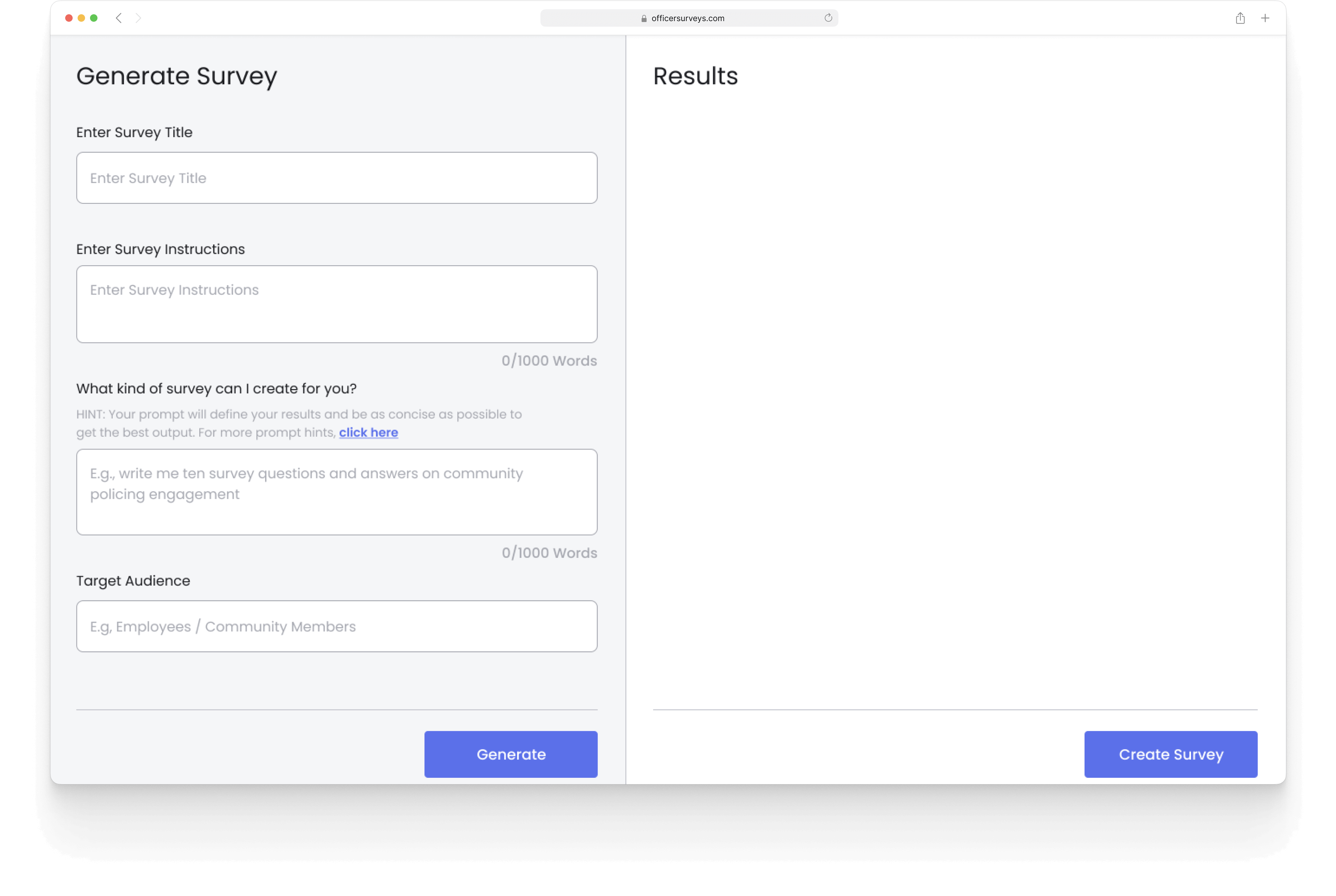 With Officer Survey, police agencies have seen
Higher community satisfaction rate
Higher Individual Officer Rating
Decrease In Complaints Against Officers
Revolutionizing Survey Creation With AI-Powered Tool
Our tool is designed to simplify and expedite the survey creation process by using advanced artificial intelligence technology. By inputting your survey objective, our system automatically generates a customized survey that accurately captures the data you need. This not only saves you valuable time and effort but also ensures that your survey is efficient and effective. Our tool is suitable for businesses and individuals who want to gather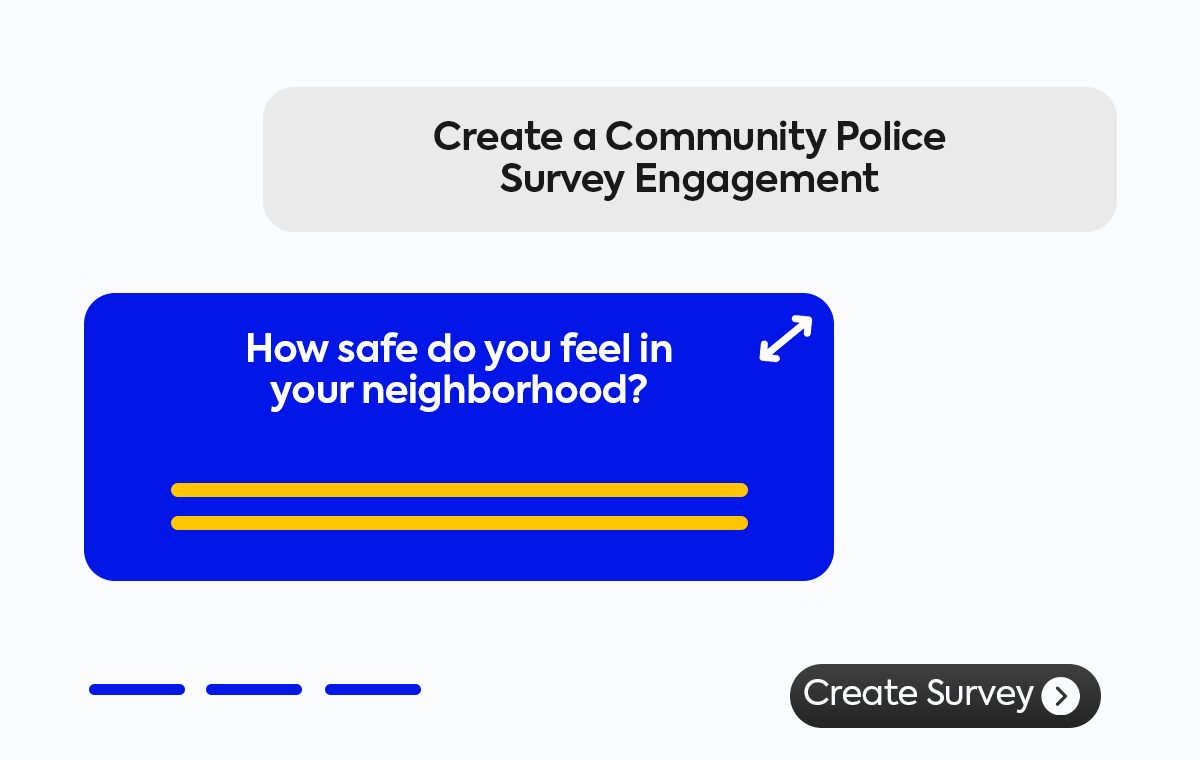 Here is a step-by-step guide on how to use our AI-powered survey generator:
Click on the "Generate Survey" button.
Enter the type of survey you would like to create in the designated field.
Click the "Generate" button to initiate the process.
That's it! Our survey generator is designed to make the survey creation process as simple and effortless as possible. With just a few clicks, you can generate a comprehensive survey that accurately captures the data you need.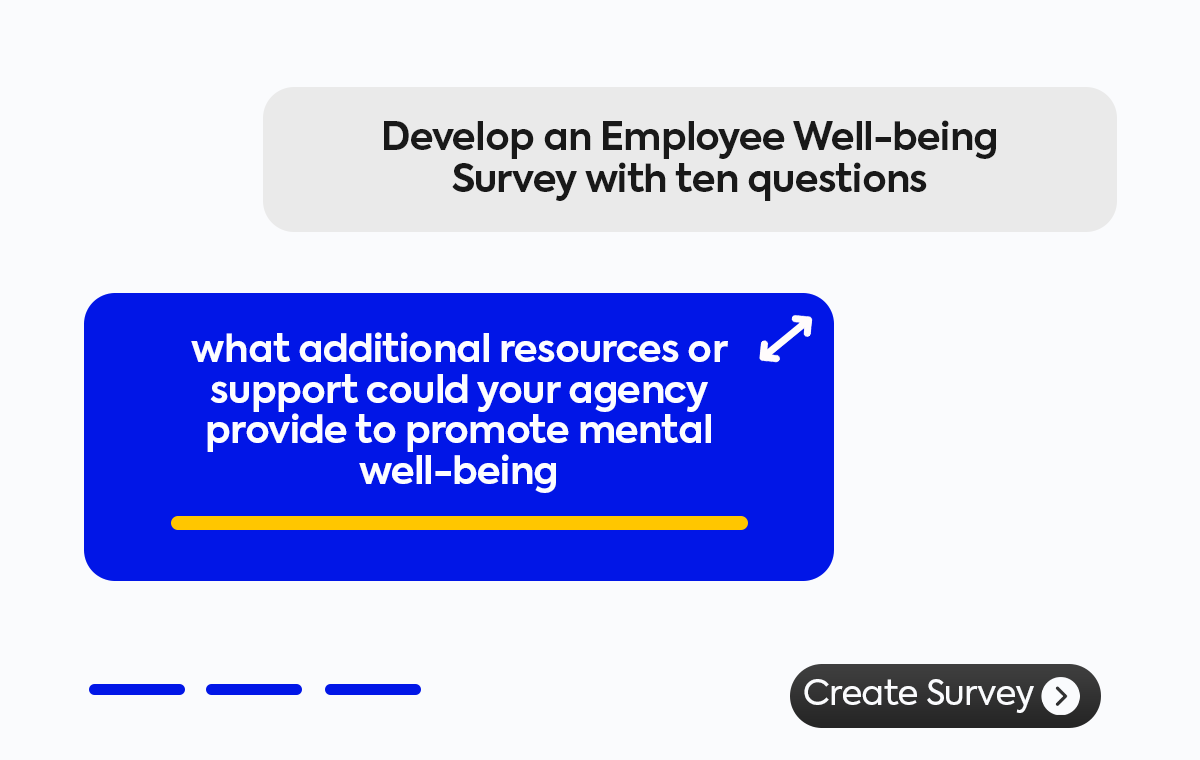 Discover the Benefits of Officer Survey: The AI-Powered Survey Generator
With these features, Officer Survey is an effective and efficient tool for anyone looking to gather valuable insights and feedback from their target audience.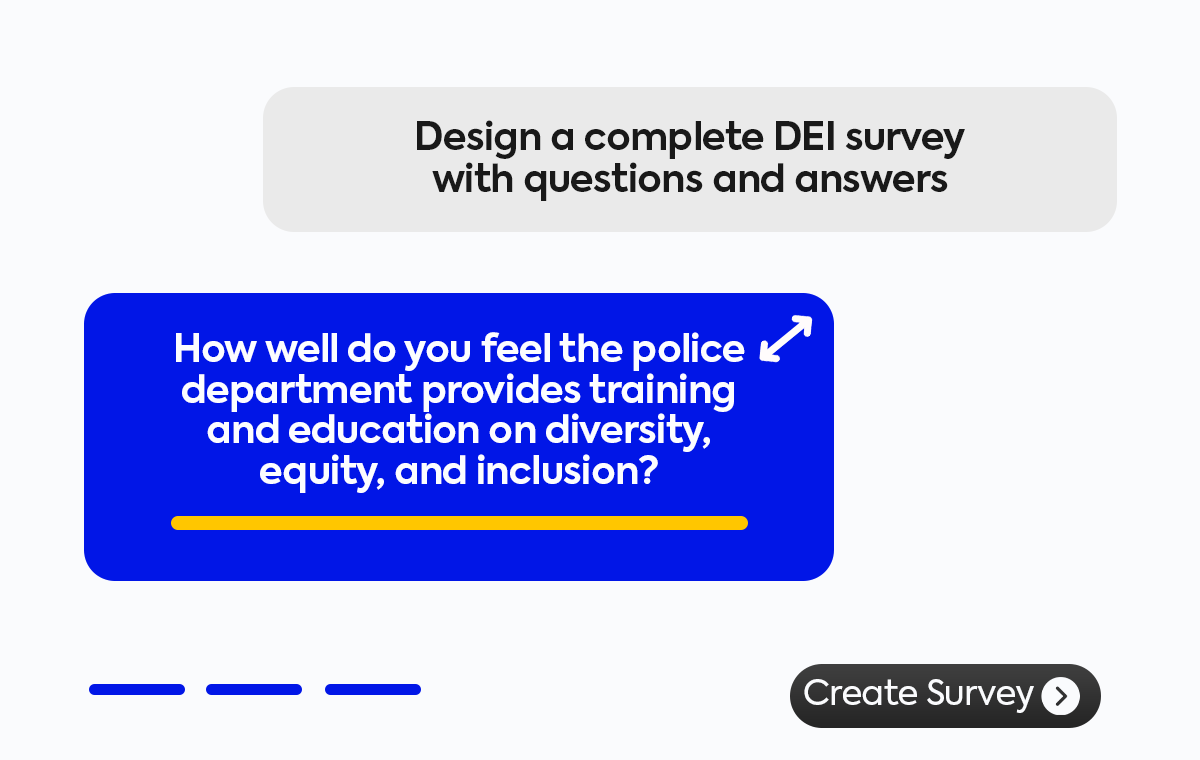 Speed and efficiency
Officer Survey can generate surveys in seconds, saving you valuable time and effort.
Customization
Our AI-powered system creates a survey that is customized to your specific survey objective, ensuring you capture the data you need.
Accuracy
Officer Survey produces surveys that are precise and accurate, reducing the risk of errors and incomplete data.
User-Friendly
Officer Survey is easy to use and does not require any technical expertise or training.
Flexibility
Officer Survey can be used for a variety of survey types, including employee satisfaction, community policing surveys, employee wellbeing surveys, and more.
Cost-Effective
Officer Survey is an affordable alternative to hiring a survey professional or purchasing expensive survey software.
Data Analysis
Officer Survey provides built-in data analysis and reporting features, allowing you to easily interpret and act on survey results.
We believe in providing our customers with an all-inclusive experience.
That's why our AI-powered survey generator is included in all of our plans at no extra cost. We believe that our customers should have access to all the features and benefits of our tool without having to worry about additional fees or charges. Whether you're a small police department or a large agency, our survey generator is available to you without any hidden costs or surprises. 
With Officer Survey, you can create high-quality surveys with ease and confidence, knowing that you have access to all the features you need to gather valuable insights and feedback from your target audience.
Ready to start creating your own customized surveys with Officer Survey?
Request a free demo today to see how our AI-powered survey generator can benefit your agency. With our easy-to-use tool, you can quickly generate accurate and effective surveys without any additional costs or fees. Don't miss out on the opportunity to gain valuable insights and feedback from your target audience. Click the button below to request your free demo and get started with Officer Survey today!
AI Press Release Generator
Introducing Officer Survey's groundbreaking AI-powered Press Release Generator, a game-changer in the world of communications. Crafting a compelling press release has always been a time-consuming and repetitive task. But now, with the innovative integration of ChatGPT into our platform, we have revolutionized the process.
Experience the future of press release creation with Officer Survey's AI-driven Press Release Generator. Try it now and unlock a new level of efficiency and professionalism in your communications.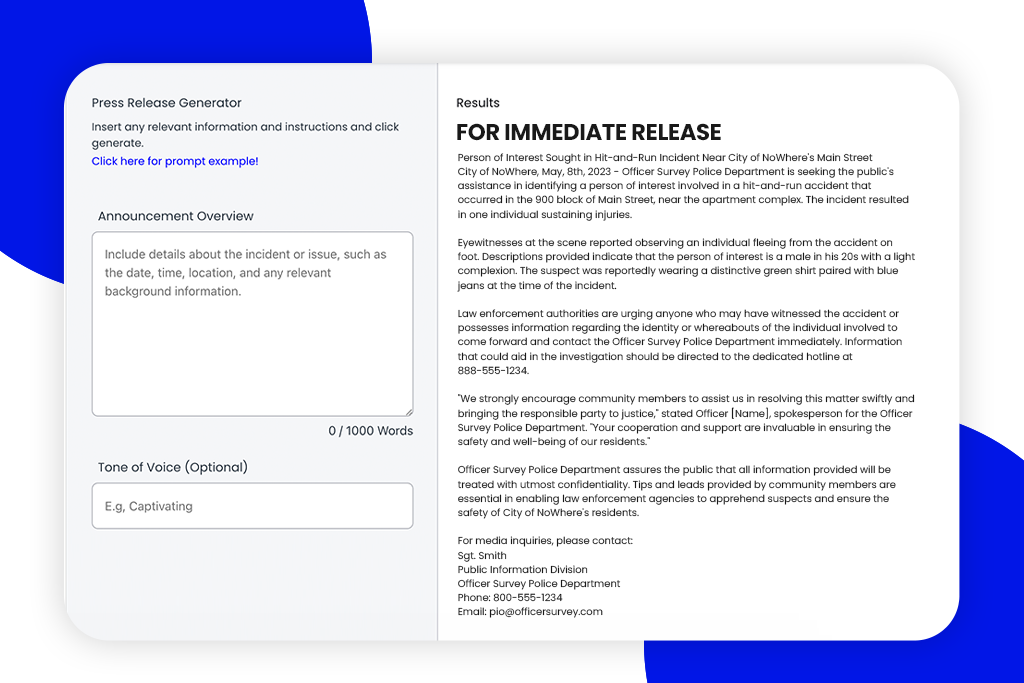 Multi-language Support
Effortlessly craft surveys in nearly 100 languages, breaking down barriers and ensuring that every member of your community can participate and have their voices heard. No longer limited by language constraints, you can truly engage with diverse populations, fostering inclusivity and understanding.
Free of Charge
The Press Release Generator is offered completely free of charge to all our customers. We believe that every organization deserves access to this powerful tool, enabling them to communicate their message effectively and effortlessly.
User Friendly
Using our simple interface, all you need to do is input the essential information you wish to include, provide instructions for incorporating quotes, and specify the desired tone of your press release. With this valuable input, our advanced AI technology will swiftly generate a high-quality draft for your review.
Customization
You still have full control over the final outcome. You can easily make any necessary tweaks and edits, ensuring the press release perfectly aligns with your vision. Once you're satisfied, effortlessly share your masterpiece across the appropriate channels, maximizing its reach and impact.
Introducing Officer Survey's revolutionary Survey Creator and Survey Translator, empowering you to connect with your entire community, regardless of their ethnicity or language, like never before. With the cutting-edge power of Officer Survey's AI technology, we have taken survey creation and translation to a whole new level.
Experience the future of inclusive surveying with Officer Survey. Try our Survey Creator and Survey Translator today and witness the transformative power of technology in fostering cross-cultural communication.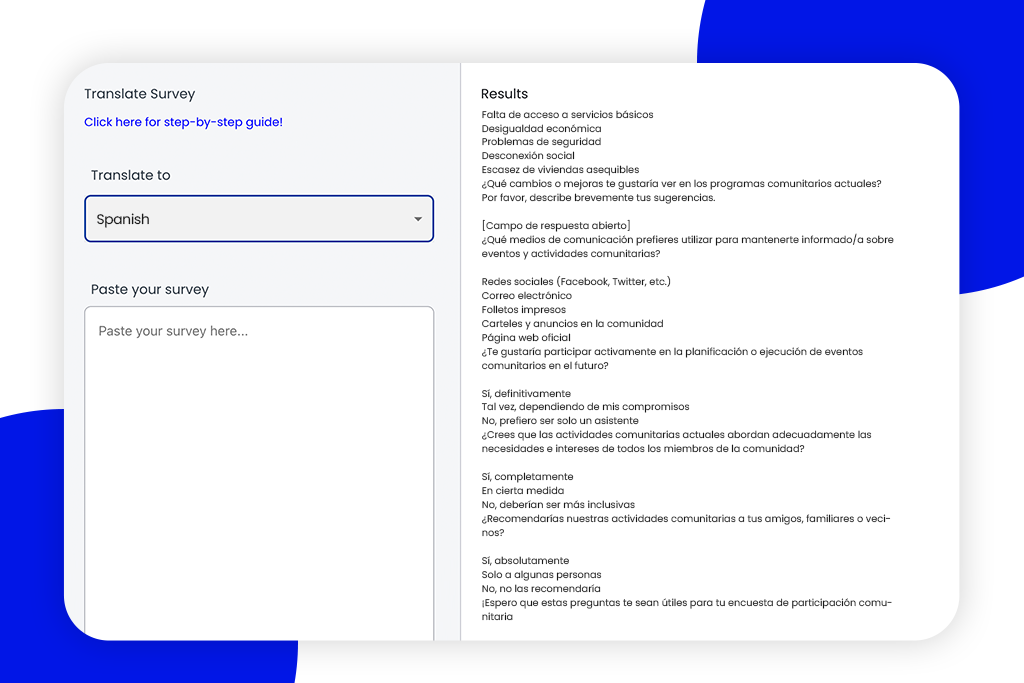 Speed and efficient
Prepare to be amazed as our Press Release Generator empowers you to effortlessly create top-tier press releases in mere minutes, requiring minimal exertion and editing on your part. No more wasting valuable time and energy!
User-Friendly
Our seamless interface allows you to design surveys with ease. It's a game-changer that amplifies your reach, making it possible to gather valuable insights and feedback from individuals across various ethnic backgrounds.
Embrace Diversity
Don't let language be a hindrance to effective community engagement. Bridge the language gap and embrace diversity effortlessly with our ai tools. Expand your horizons, unlock new perspectives, and build stronger connections within your community.