Post contact interaction
officer surveys

.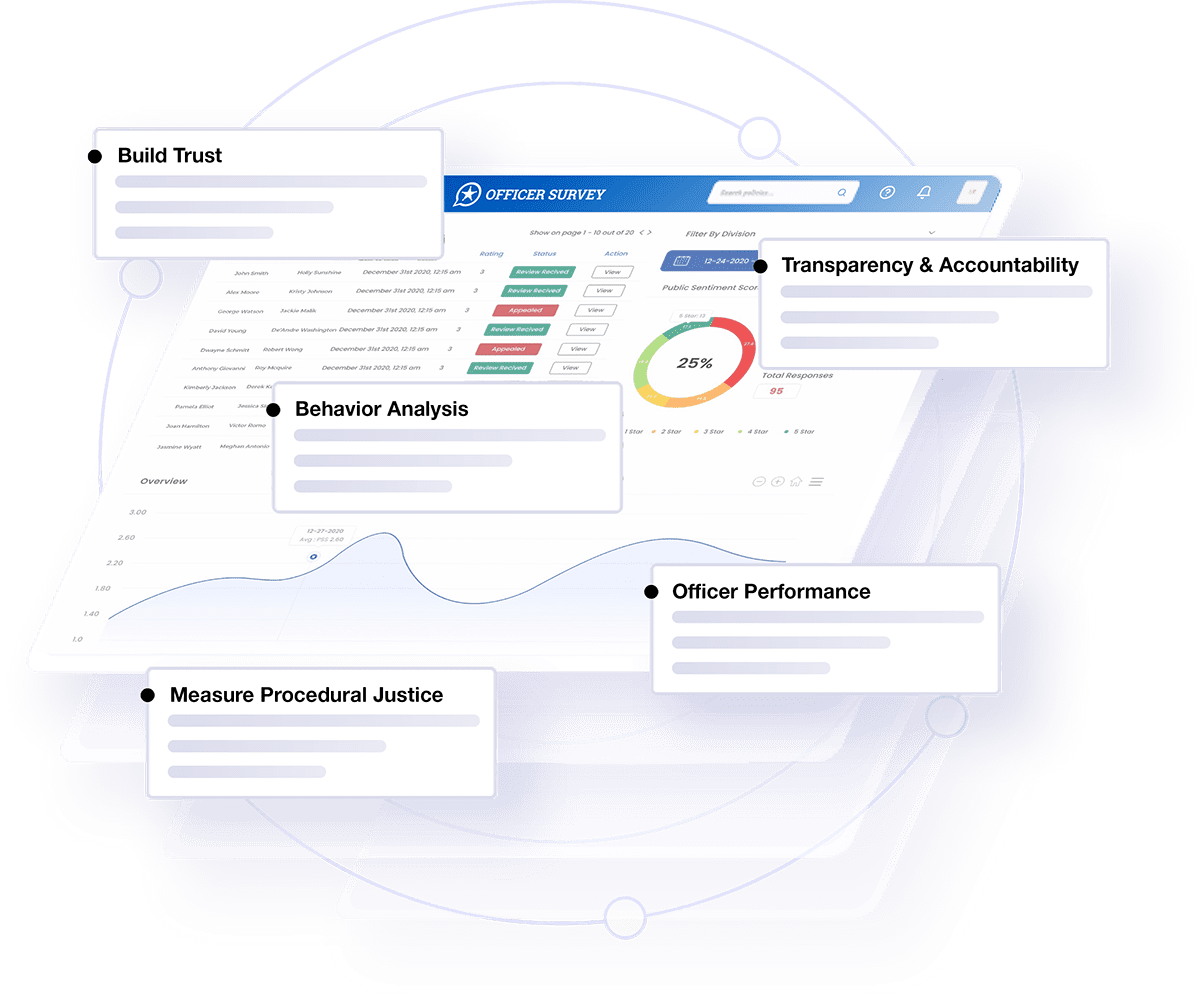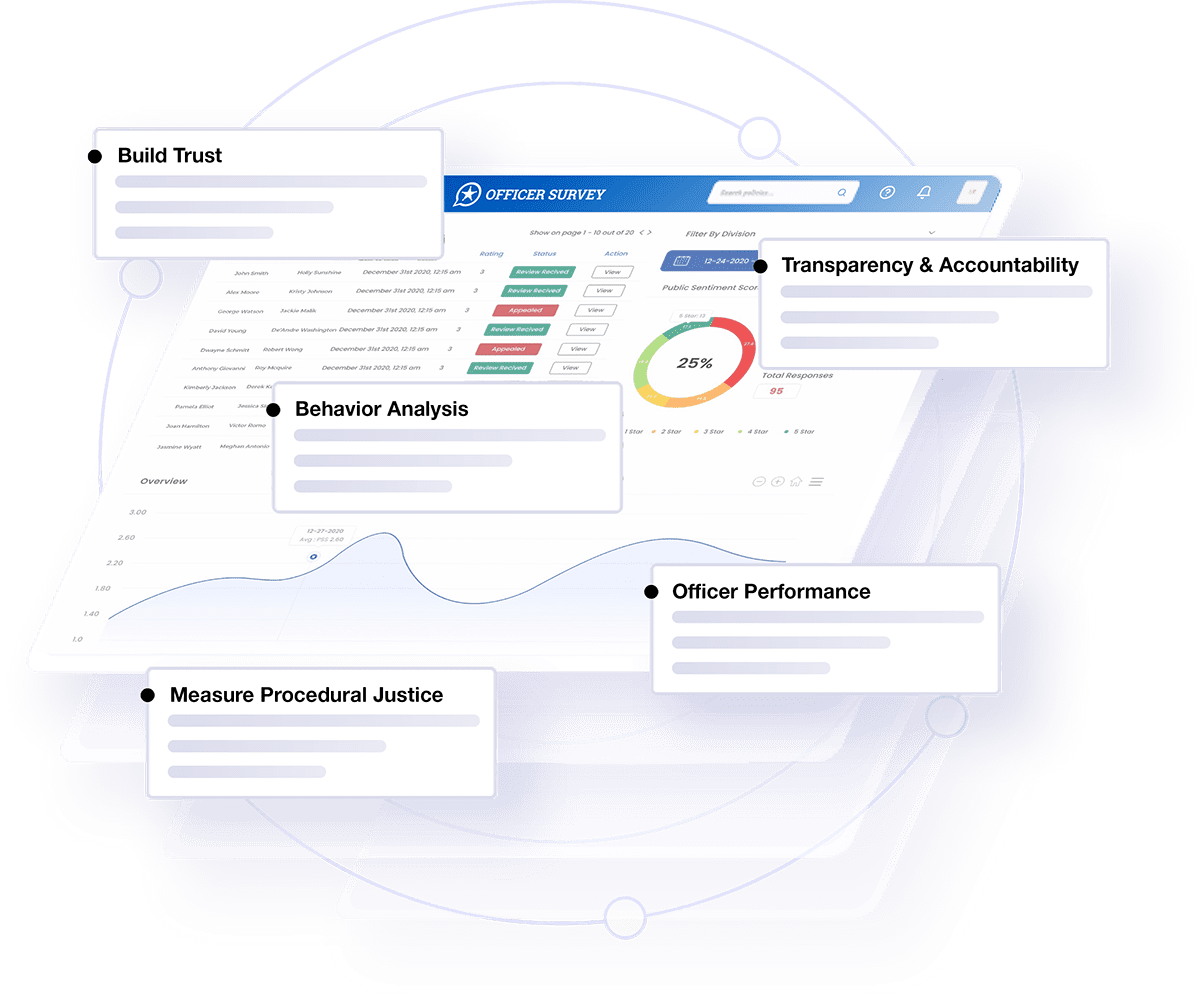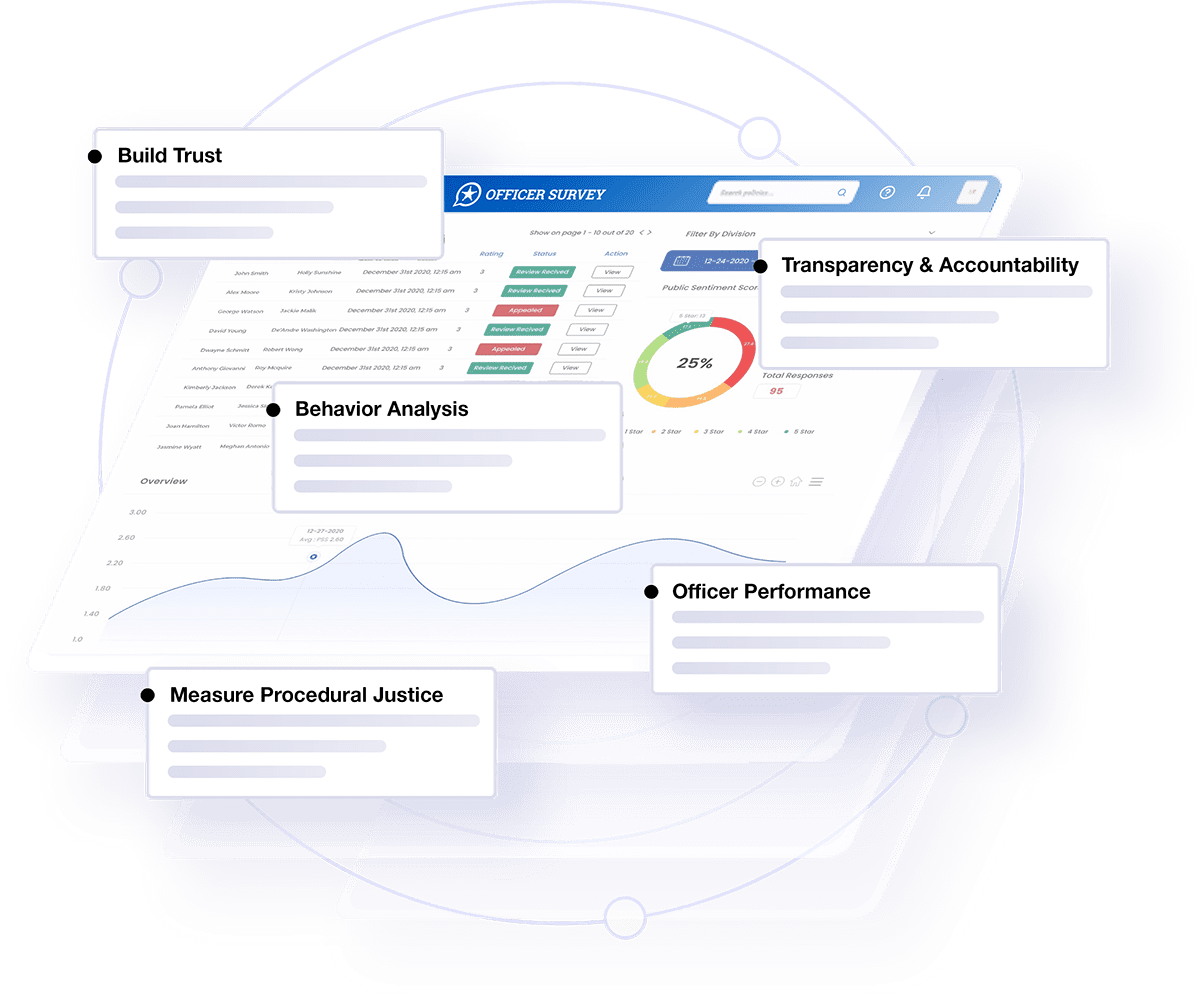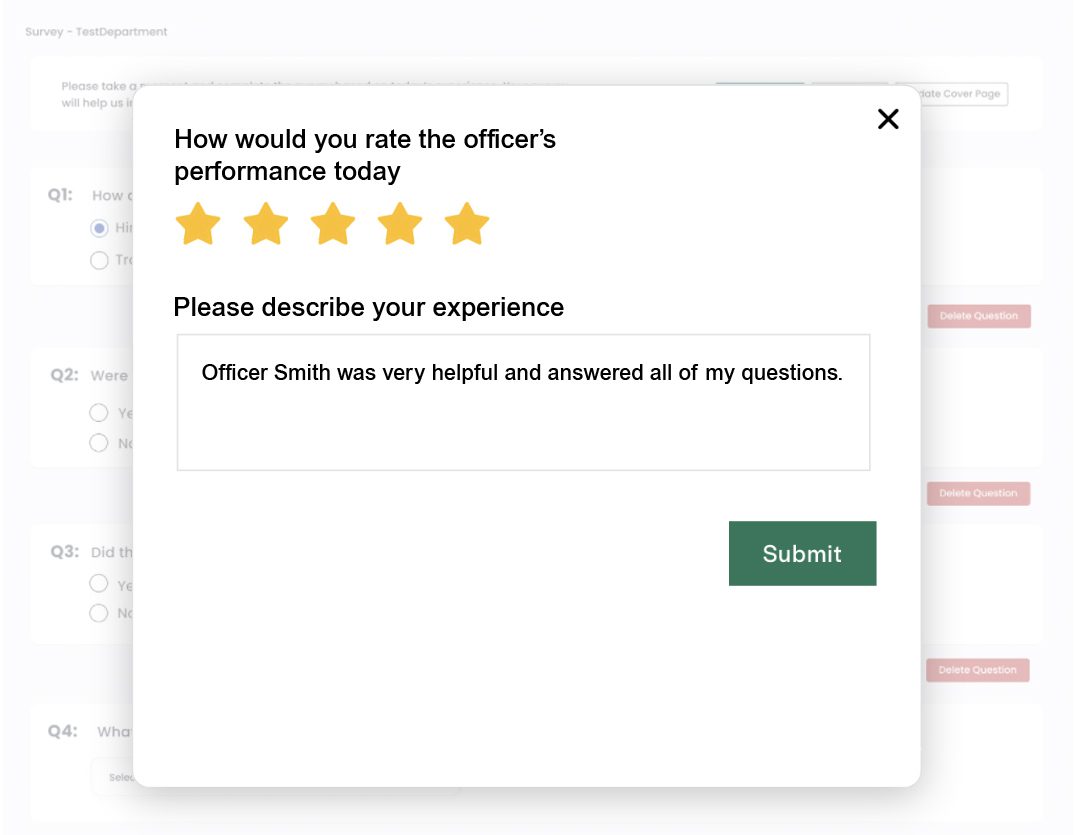 Build trust with community members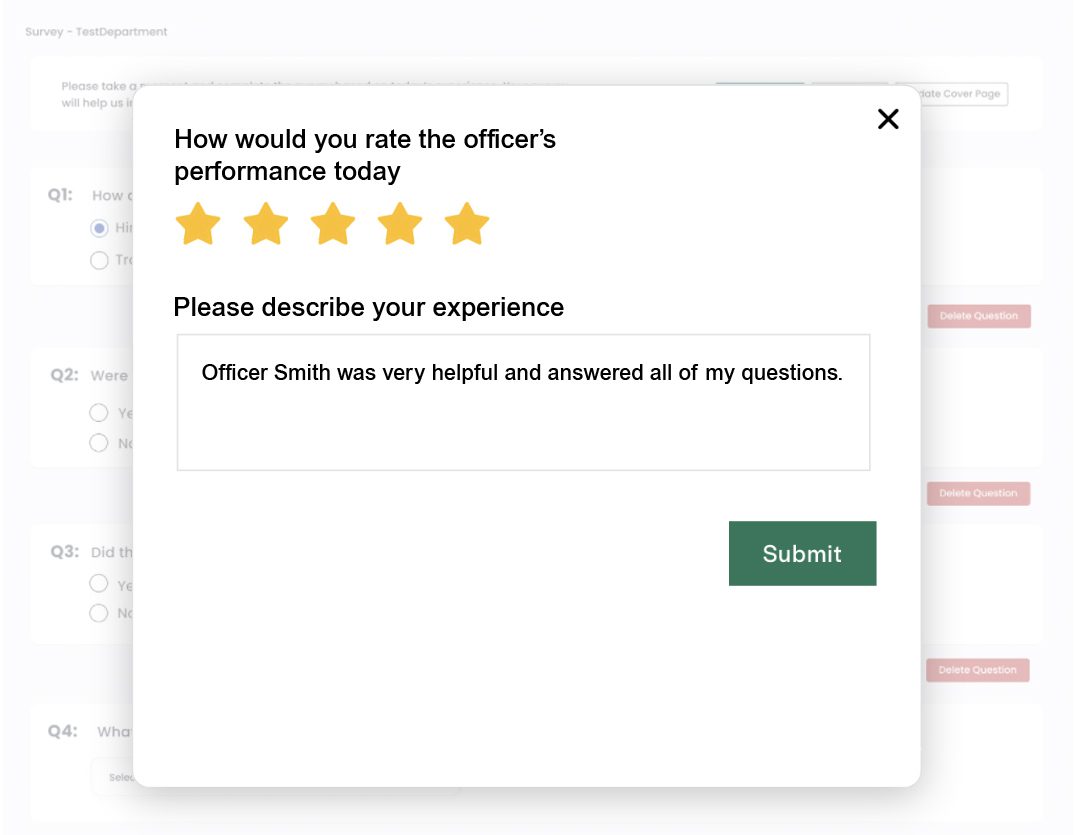 Our solution enables police agencies to collect feedback from citizens after each interaction with responding officers, providing them with the ability to strengthen civic engagement and build trust with their communities, all while enhancing public perception.
Find out what citizens really think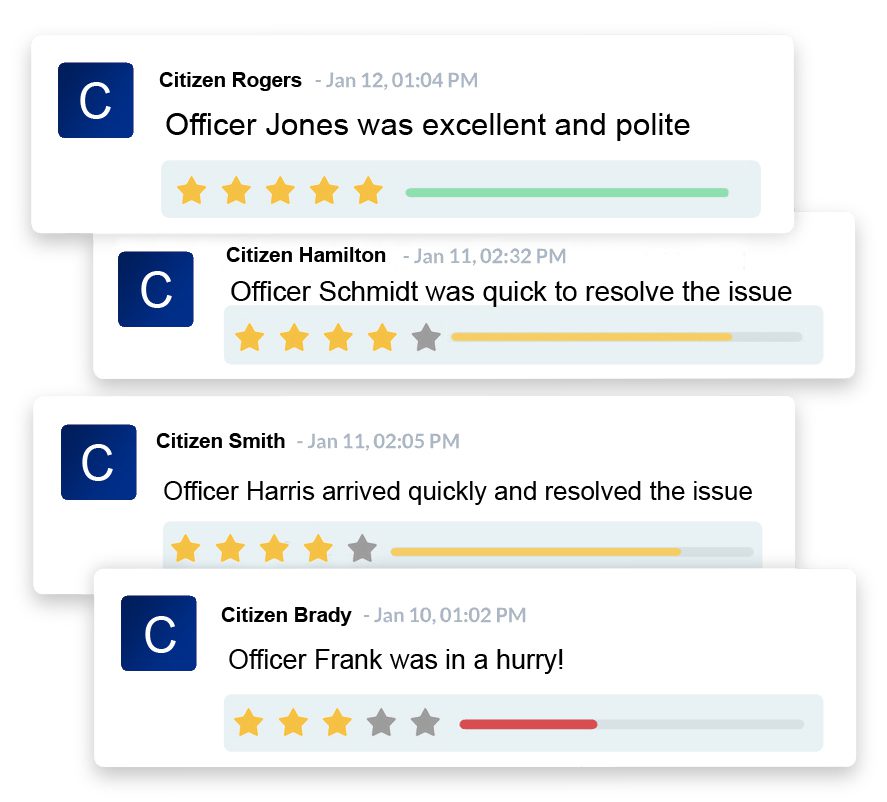 It is crucial to gather feedback from your community in order to evaluate your performance and make well-informed decisions. By leveraging data and turning questions into insightful conversations, you can gain valuable insights that will help you improve and excel. Don't miss out on this opportunity to better understand the needs and concerns of your community and make informed decisions that will benefit everyone involved. Take the time to engage with your community and gather valuable feedback that will help guide your efforts and drive your success.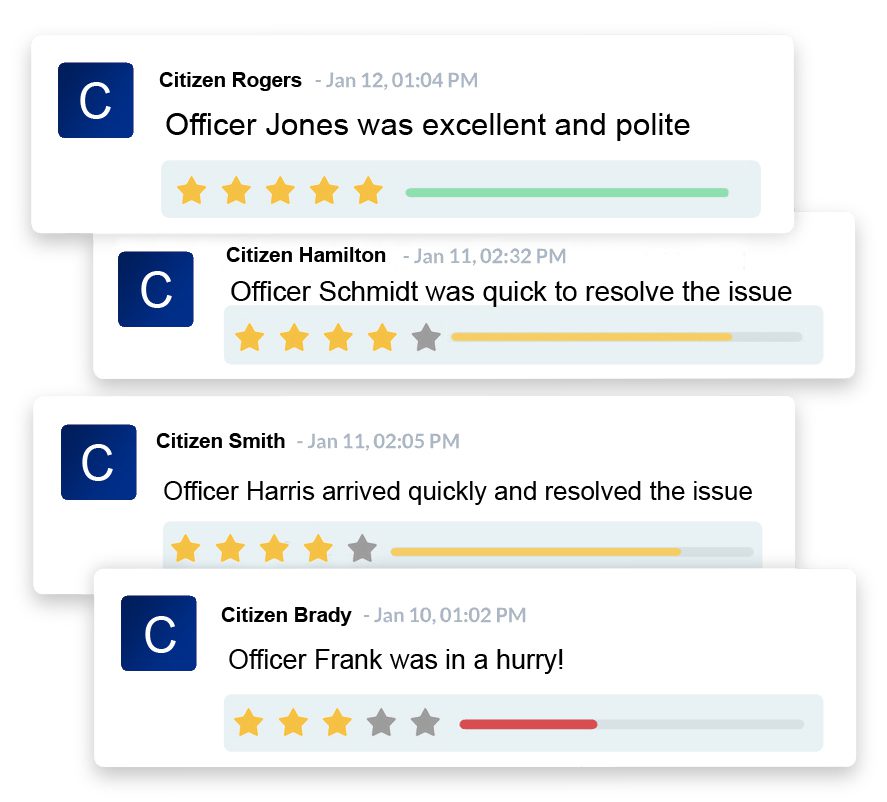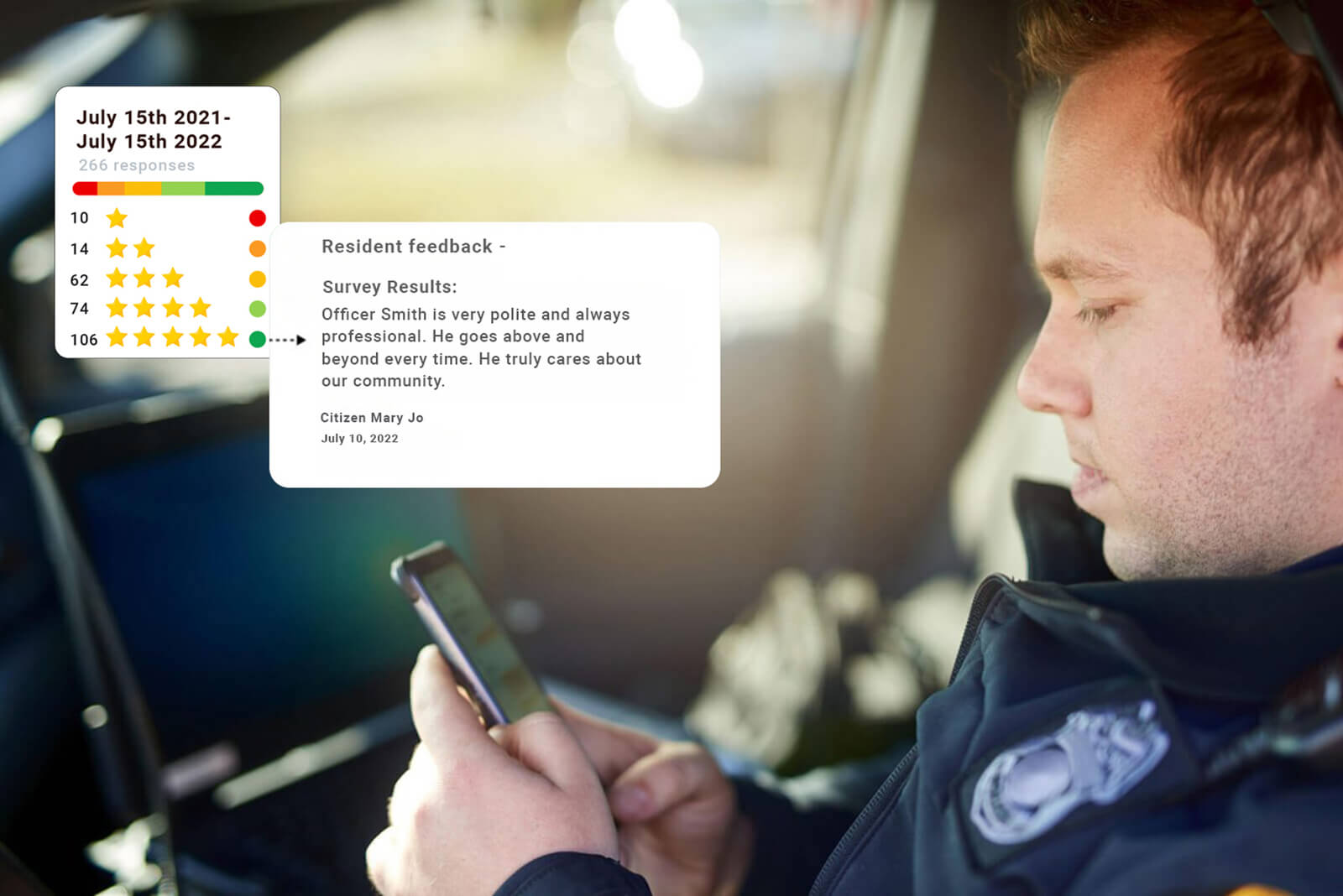 Listen to citizens & officers to build better relationships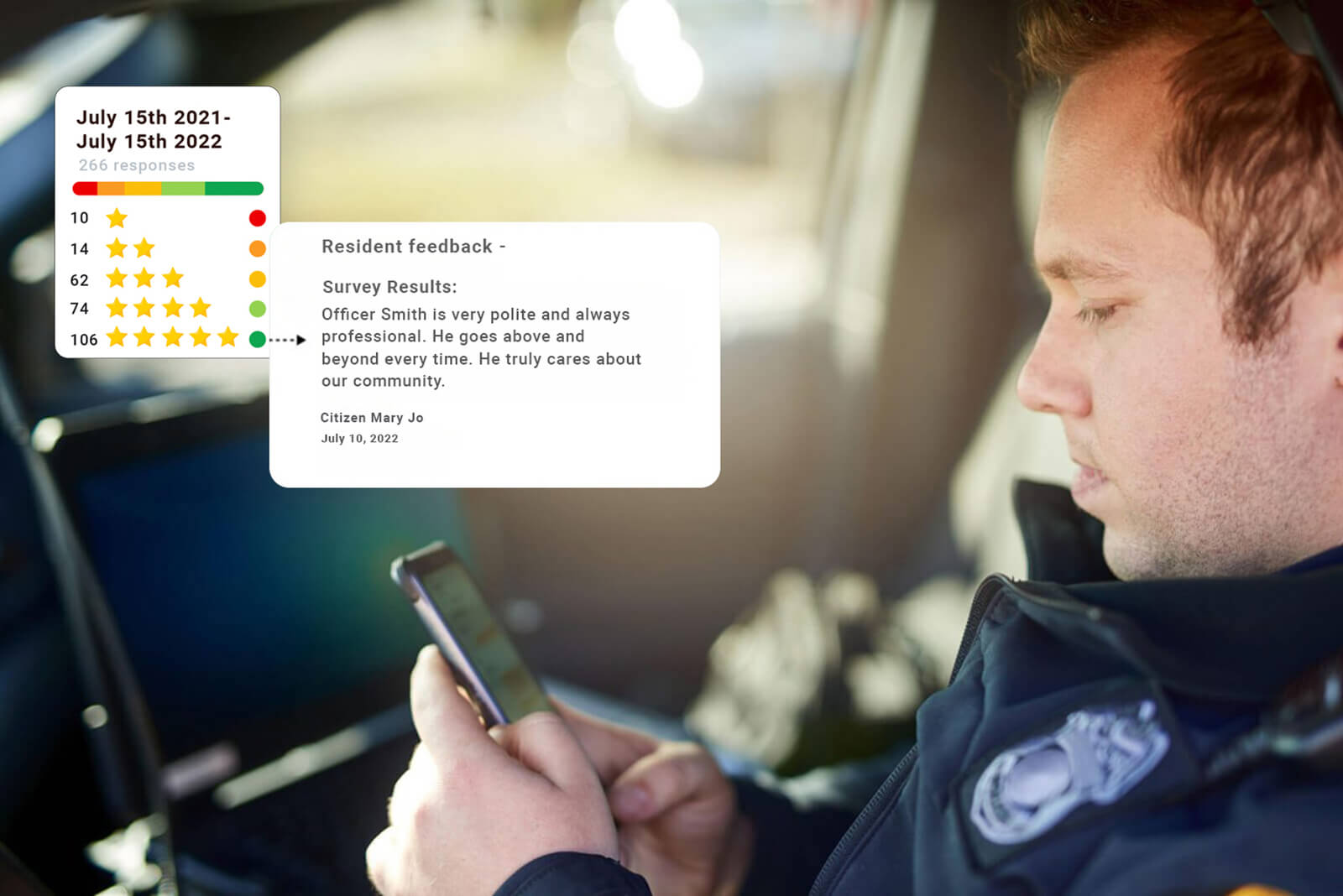 Get in-depth Analysis in Real-Time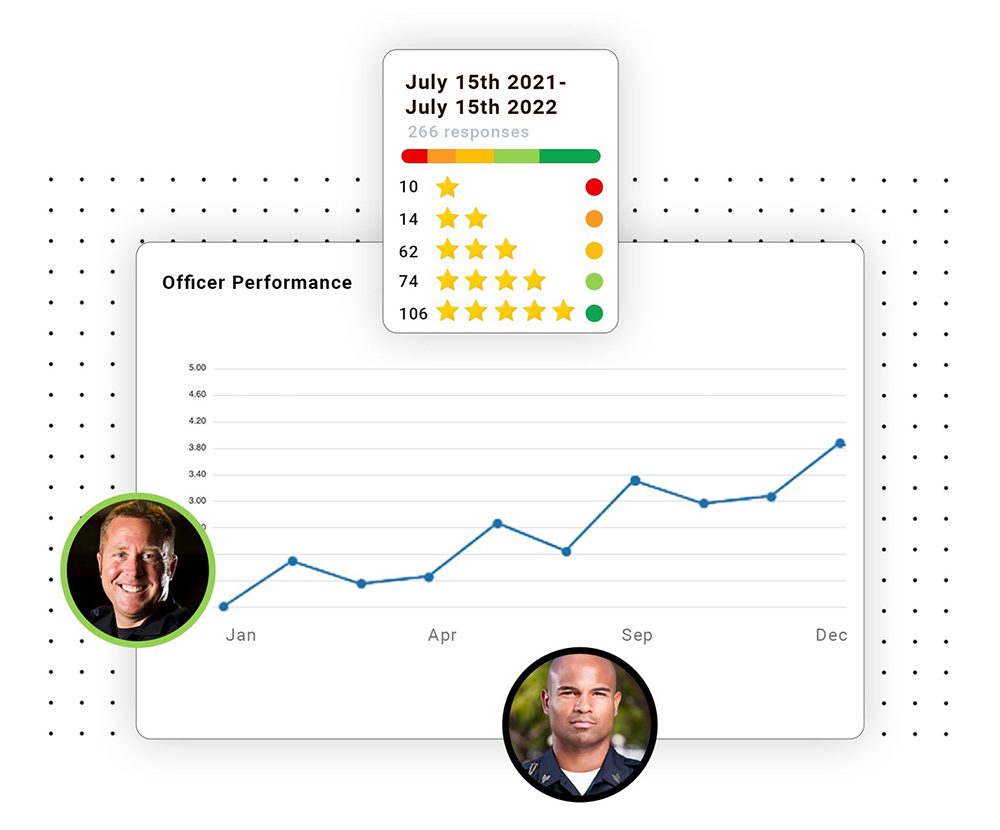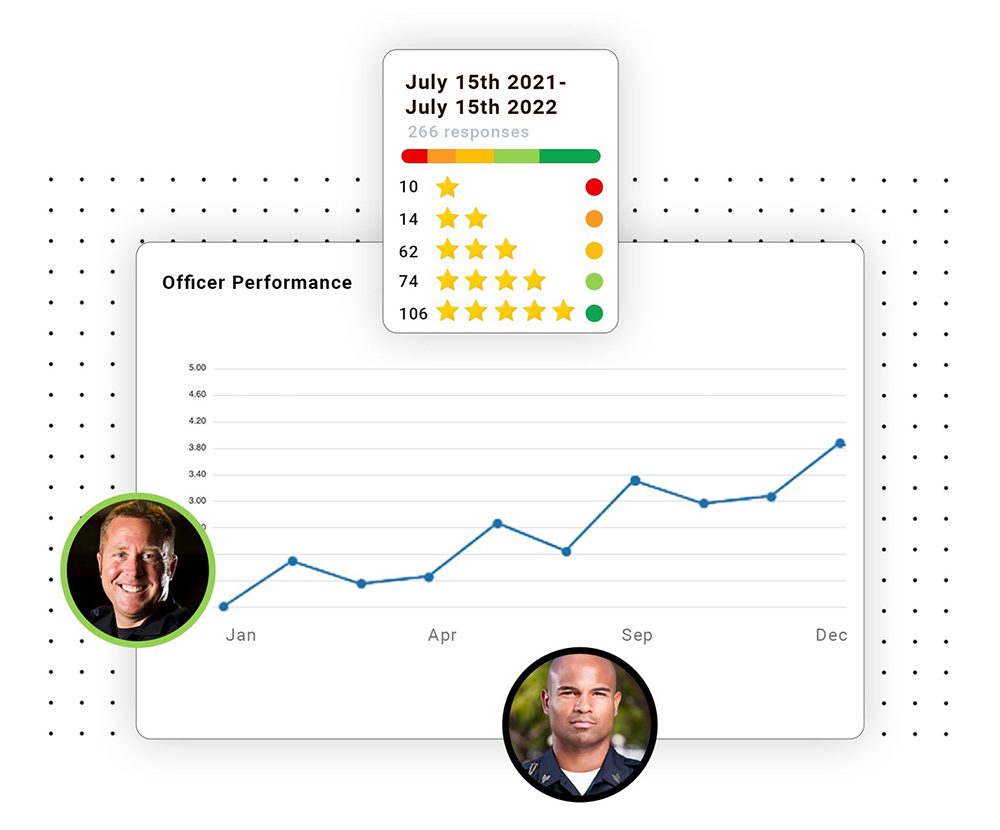 Post-Contact Officer Survey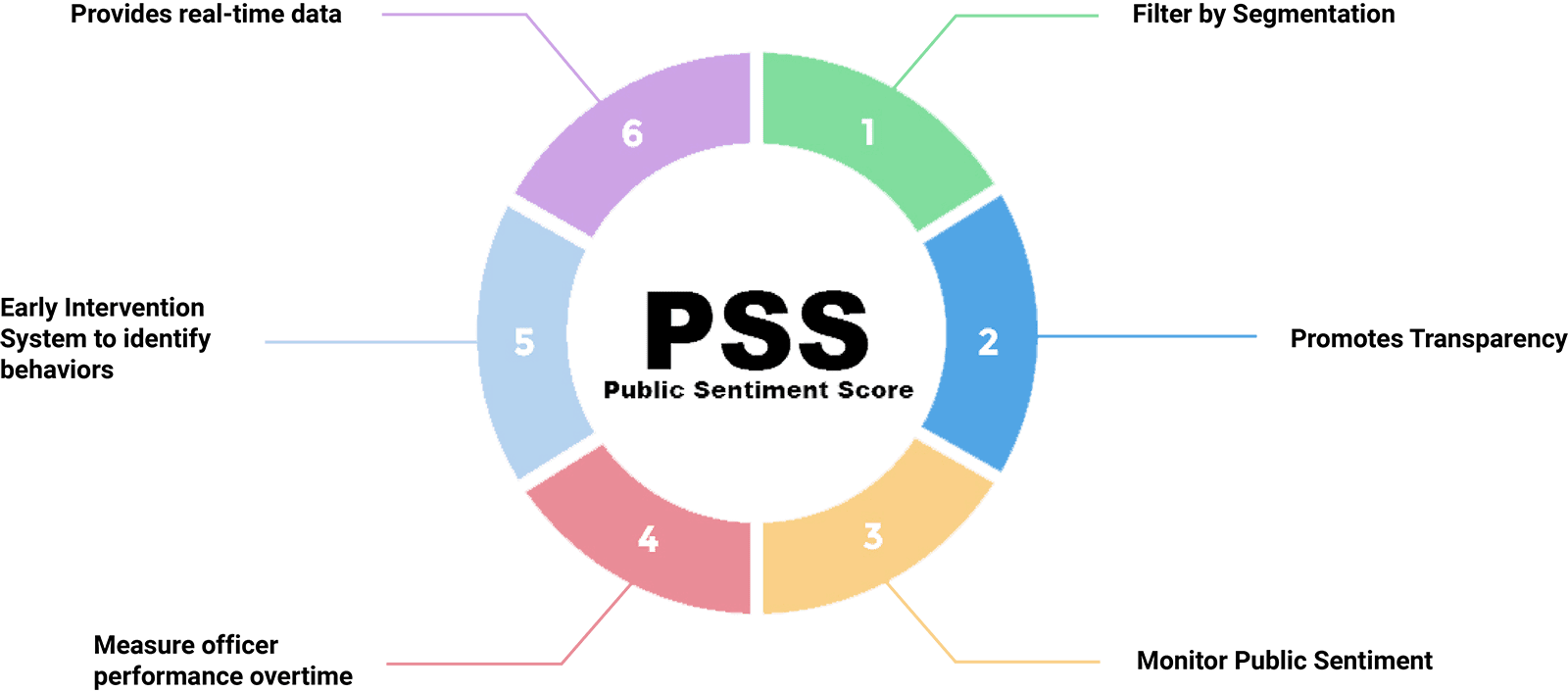 Post-contact officer surveys are conducted after individuals have interacted with police officers. These surveys allow individuals to give feedback on their experiences and can help improve accountability. Some benefits of conducting post-contact surveys include:
Enhanced transparency: By collecting feedback from individuals who have had interactions with police officers, a department can increase transparency and demonstrate its commitment to accountability.


Improved relationships with the community: Post-contact surveys can help identify areas where officers could improve their interactions with community members, which can help build stronger relationships between the police and the community.


Enhanced trust: By collecting and responding to feedback from individuals who have had interactions with police officers, a department can demonstrate its commitment to building trust and confidence with the community.


Improved officer training: By analyzing the results of post-contact surveys, a department can identify areas where officers may need additional training or guidance and implement changes to enhance their interactions with the community.



Opportunities for improvement: By collecting and analyzing data from post-contact surveys, organizations can identify opportunities for improving the way they interact with the community and better serve their constituents.
What is a Policing heatmap?
A heatmap is a graphical representation of data that uses a system of color coding to represent different values. It is a powerful way to understand how your community interacts with your officers. Moreover, you can segment surveys based on various metrics and deep dive into areas that may need special attention.
The primary benefit of using heatmaps is that they make data representation understandable. Many people understand heat maps intuitively, without even being told that those warmer colors indicate a denser focus of interactions (positive or negative). By making data science accessible in this way, more people from around the organization can understand how residents interact with your officers.
Here is how heatmaps within Officer Survey can help you
Interactive Survey Heatmap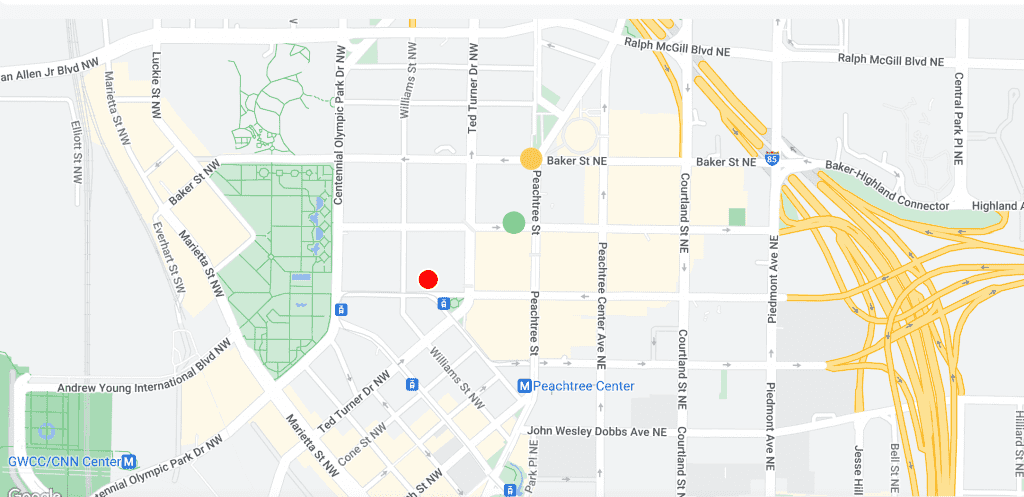 Connect and engage with community members in a more transparent manner by allowing them to provide feedback about their interaction with the responding officer(s). Building trust and nurturing legitimacy on both sides of the police/citizen divide is the foundational principle underlying the nature of relations between law enforcement agencies and the communities they serve.
Early intervention is crucial to prevent problems before they escalate. Identifying issues early on and putting the right support in place can greatly improve outcomes. The early intervention tool represents a proactive approach to accountability: a systematic organizational effort to identify problems before they escalate into more serious issues. ​
Receive in-depth feedback simultaneously after every dispatched call. Analyze the responses and deliver measurable results. Every survey response is linked to the responding officer for transparency and accountability.
A systematic and proactive approach to identifying problematic areas based on citizens' feedback. Quantify incoming data to reduce crime, hold officers accountable, and increase community trust. ​
Increase efficiency and automate the process so you can focus on what matters the most.
Easily export and share files with command staff and officers with just click of a button. ​
What Police Chiefs are Saying
What Community Members are Saying